August 31, 2012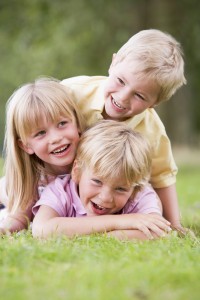 As your family prepares for the start of a new school year, there's one thing our entire team at Randolph Dental Care would like to remind you about: a back-to-school checkup. Now may be the last time you can bring your son or daughter in before the new school year ramps up and the holiday season arrives, so don't miss it.
What to Expect from a Back-to-School Checkup
During your child's back-to-school checkup, Dr. Goldstein will thoroughly examine your child's smile for signs of common oral health conditions. As part of that exam, our Randolph office will use a variety of advanced technologies and techniques the make the process easier and more precise.
One of the tools we'll use is DIAGNOdent. As we first explained in our post from April 30, DIAGNOdent is used to spot signs of decay early, before they have a chance to worsen. To do this, it uses a laser light to compare what we find with a healthy baseline, making it possible to spot decay before we can even diagnose it with just a visual exam.
Of course, everyone—dentists included—wish there was a way to get rid of decay completely, but that's a long way off. So until then, DIAGNOdent is the best tool that Dr. Goldstein and dentists like him have to protect smiles of all ages from developing a serious problem with tooth decay.
Have You Scheduled Your Child's Back-to-School Visit?
If you still need to schedule a back-to-school checkup for your son or daughter, don't hesitate to give Randolph Dental Care a call. Our Randolph team is always ready to help patients improve their oral health with great full-service dentistry and contemporary technology. We serve patients from Rockaway, Mendham, Chester, Morristown, Denville, Morris County, and beyond.
No Comments »
No comments yet.
RSS feed for comments on this post.
Leave a comment