About Our Dental Office – Randolph, NJ
Your Home
for High-Tech Dentistry
Drs. Glen and Zachary Goldstein pride themselves in striving for excellence in all aspects of dentistry, from general care to cosmetic treatments. Our Randolph dental office has the edge in providing personalized, comfortable care thanks to our state-of-the-art technology. Between our experienced dentists, our friendly supportive staff, and our high-tech environment, we aim to bring you a dental experience like you've never had before. Call us today to schedule an appointment and you will experience the Randolph Dental Care difference for yourself.
All of Your Dental Needs Performed Right Here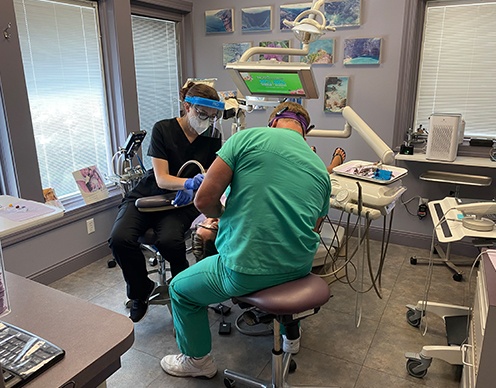 We know that visiting a separate specialist for certain procedures can be a frightening prospect – not to mention a huge inconvenience. Since having graduated from dental school, Drs. Glen and Zachary Goldstein have gone out of their way to continue his education and stay up to date with the latest techniques the field of dentistry has to offer. As a result, they are able to provide many specialty services to his patients such as dental implant placement, extractions, bone grafting, gum grafting, sinus augmentation, TMJ therapy, and cosmetic dentistry. All of these services are made available to every patient in one location. Whatever you or your family's dental needs are, you can find the services you're looking for right here at Randolph Dental Care; there is never a need to go elsewhere.
Committed
to Your Safety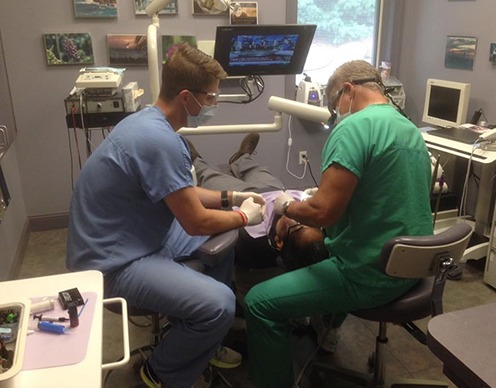 The health and safety of our staff and patients have always been of the utmost importance, and nowadays they're bigger concerns than ever before. We want you to know that we're taking every possible measure to make our dental office a safe environment, which is why we've decided to share some of the additional steps we've added to our safety protocol. As the situation continues to change, our procedures will continue to evolve so that you can walk into our dental office without worrying about infection.
Learn About Our Advanced Safety Protocol
TMJ Expert & Thought-Leader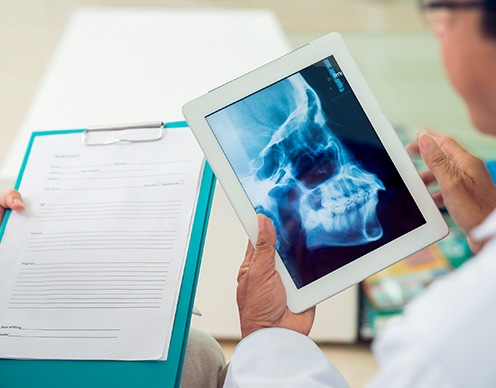 After studying under Dr. Peter Dawson and Dr. Mark Piper – two leaders in the study of the TMJ – Dr. Glen Goldstein has become one of the few dental practitioners in the Randolph area who can precisely diagnose and treat TMJ disorders. He has given many lectures on the topic and continues to work with a number of medical professionals which include Ear, Nose and Throat specialists, Neurologists, Chiropractors, and practitioners who specifically work within the area of pain management. Drs. Glen and Zachary Goldstein team up with these professionals in an effort to solve the complex health issues that accompany TMJ disorder. As a result, our patients ultimately experience the relief they had been in search of while knowing they can now live a happier, healthy pain-free existence.
Learn About Drs. Glen and Zachary Goldstein's TMJ Course
Computer-Guided Dental Implant Surgery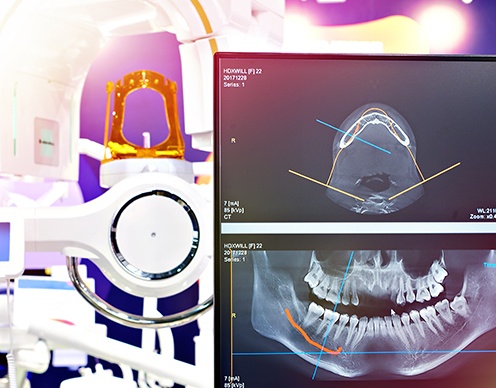 Implant surgery and restoration (placement of the implant crown) are both performed at our Randolph dental office. This gives Drs. Glen and Zachary Goldstein full control over the results of all aspects of the procedure; from the planning stages right through to placement of the implant crown. In order to ensure the best results during implant surgery, Drs. Glen and Zachary Goldstein use a computer-guided technique in implant surgery that is considered cutting-edge when it comes to the most precise placement of dental implants. Simply put, advanced technology and CT scans give us a clear picture of precisely where the implant needs to be placed in order to avoid complications such as a damaged nerve. In some cases, a computer-guided procedure can make implants viable for patients who might not have been candidates otherwise, such as those with low bone volume or dental structure issues.
Modern Dental Technology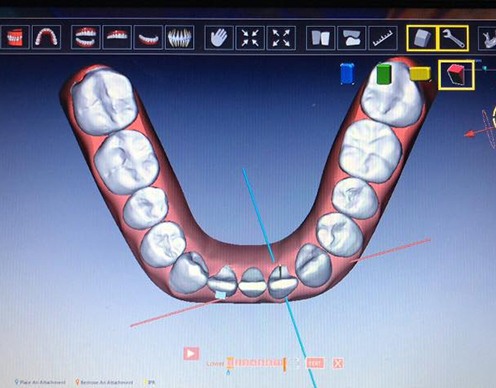 Technology is constantly marching forward, and dentists need to march along with it if they want to continue bringing their patients the most comfortable, convenient care possible. Drs. Glen and Zachary Goldstein closely follow the latest trends in dentistry and have integrated many of the latest advancements into the services they offer. This includes CT scanning technology, same-day CEREC crowns, and DIAGNOdent laser cavity detection. If you click the link below, you can learn more about these advancements and the difference they can make for your care.
See Our Advanced Dental Technology
Dental Insurance & Financing Options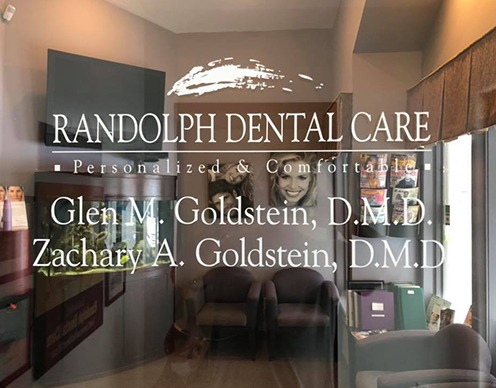 In addition to being an in-network provider for Delta Dental, Drs. Glen and Zachary Goldstein are happy to accept a wide number of dental insurance plans. Dr. Zachary is a network provider with Delta Dental PPO. Our team can help you figure out your benefits and will happily work with your insurance company to make sure that you make the most of your plan and get all the savings and benefits you're entitled to. We realize that not everyone has dental insurance, which is why we're willing to help you explore other options for reducing the costs of dental care. We do so by aligning ourselves with reputable financial institutions such as CareCredit, Greensky, Proceed Finance, Lending Club, etc. These financial establishments make receiving quality dental care accessible to everyone by offering affordable payment plans with little to no interest.