Dental Implants — Randolph, NJ
Replace Missing Teeth from the Roots Up
In the past, the only way to replace missing teeth was with dentures or a dental bridge. While these restorations are certainly better than having a gap in your smile, they only replace the visible portion of missing teeth. Without a root structure to anchor them in place like natural teeth, they tend to leave a lot to be desired in terms of comfort and functionality. At Randolph Dental Care, we're proud to offer a way to replace missing teeth from the roots up with dental implants in Randolph. This state-of-the-art treatment gives you the next best thing to natural teeth and lets you get back to enjoying a healthy, functional, and confident smile once again! Don't hesitate to give us a call today and schedule your consultation!
Why Choose Randolph Dental Care For Dental Implants?
All Dental Implant Services
Done In-Office
Permanently Replace Any Number
of Missing Teeth
Highly Trained Dentist with Decades
of Experience
What Are Dental Implants?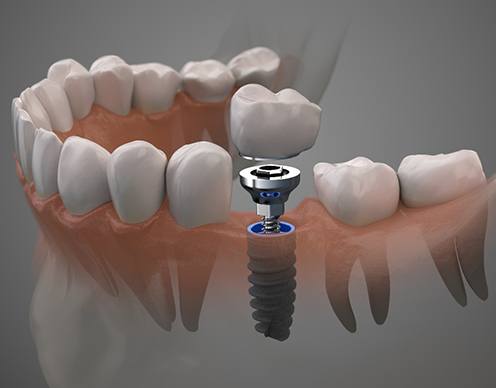 Essentially, a dental implant is a small, screw-shaped post made of titanium alloy. It is designed to be inserted directly into the jawbone where the roots of a missing tooth once were. Titanium is a biocompatible material that has long been used in other surgical procedures, so once the post is placed in the jaw, the surrounding bone and gum tissue will fuse with it instead of reject it. This process, known as osseointegration, is the reason why dental implants are so successful at restoring the functionality and stability of a lost tooth. It can take between three and six months for a dental implant post to fully integrate into the jawbone, but once it does, it will act just like a natural root. The custom-made crown, bridge, or denture is supports will look, feel, and function indistinguishably from a set of home-grown pearly whites.
A Brief History of Dental Implants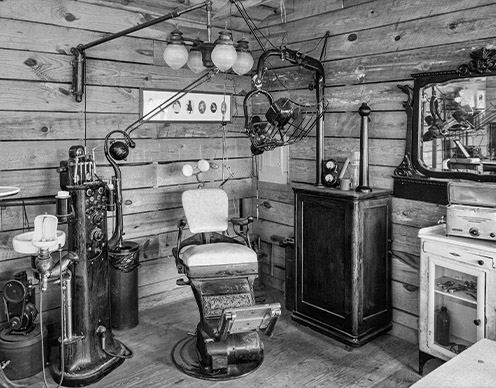 We tend to think of dental implants as a modern marvel, and in their current form, they are. But what many people don't realize is that the idea behind dental implants has been around for centuries. In fact, the very first dental implant is attributed to the Mayans and dates back to 600 AD. It only took us 1,400 years to develop a tooth replacement of a similar kind! Keep reading to explore the history of dental implants from your Randolph, NJ dentist.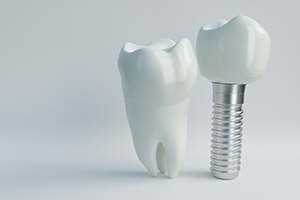 Rebuilding Smiles Through the Ages
The most notable implant discovery came in 1931, when an archaeologist in Honduras found the mandible of a Mayan woman thought to be in her twenties. The mandible contained three tooth-shaped seashells inserted into the sockets that once held teeth. At first, scientists believed the shells were inserted postmortem, but in 1970, a curious dental academic discovered that bone had grown around the seashells, meaning they served as tooth replacements while the woman was alive.
Dental implants weren't exclusive to South and Central America, though. Ancient Egyptian mummies have been unearthed with gold wires implanted in their jawbones. In the Middle East, skeletons have been found with ivory implants. Most recently, anthropologists discovered an iron implant in the jawbone of a Roman soldier.
The father of the modern dental implant, Swedish orthopedic surgeon Per-Ingvar Brånemark, made his implant discovery in the mid 1960's. While researching bone healing, he discovered that bone tissue would fuse to the metal titanium in a process called osseointegration. Over the next several years, he performed experiments and published studies, eventually commercializing implants in 1978. Today, millions of implants have been placed under his name, and even more implant companies have used his patent.
It's hard to believe that implants in their modern form have only been around for just over 40 years. But with thousands of years in the making, it's no wonder they have maintained a 95-98% success rate, making them popular with dentists and patients alike.
The Dental Implant Process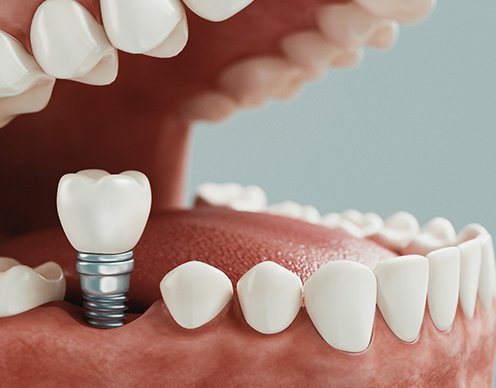 The dental implant process consists of numerous phases. After the consultation, bone grafting and other preparatory procedures are performed if necessary. Then the implants are surgically placed in your jaw; once the mouth has fully healed, a restoration can be attached. Thanks to Dr. Goldstein's experience, all of these services can be performed right here in our dental office so that you won't have to see a specialist that you don't know at a separate location.
Benefits of Dental Implants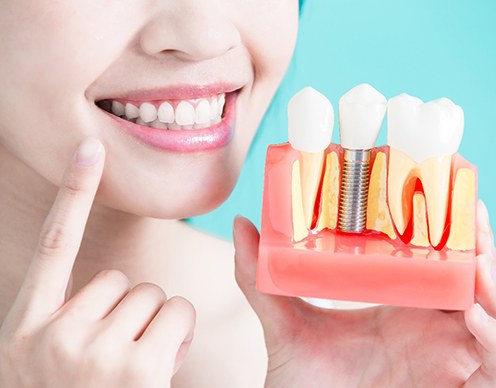 If you have missing teeth, you have multiple options for replacing them these days, such as dentures or dental bridges. However, the most beneficial solution by far is dental implants. They're the only tooth replacement that recreates the entire structure of the lost tooth, from the root up through the crown. Because of this, they offer unique advantages that alternative treatments simply cannot. What's more, Dr. Glen Goldstein can place and restore them right here in our office, thanks to his status as a Diplomate and Fellow of the International Congress of Oral Implantologists. To learn more about the myriad benefits of dental implants, give our team at Randolph Dental Care a call, or just keep reading below.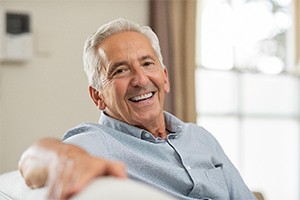 Natural Look & Feel
Out of all the solutions to tooth loss, dental implants come the closest to feeling like your original pearly whites. This is due to osseointegration, the process by which the implant posts fuse to your jawbone, essentially becoming the roots for your new teeth. Not only does this make them more stable, but they start to feel like a part of your own body. If you didn't know any better, you might forget you even have dental implants at all!
Additionally, your smile will look exactly as it did before you lost your teeth. A custom-made crown, bridge, or denture will be placed atop your implants. The restoration is designed from impressions we take of your mouth. That way, it will look perfectly natural.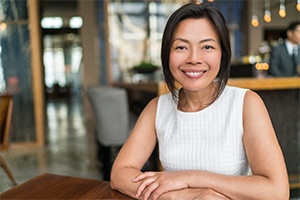 Keep Looking Young
After you've lost a tooth, its roots no longer stimulate your jawbone whenever you bite or chew. As a result, that area of your jawbone begins to deteriorate and lose its ability to support your facial muscles. This may cause drooping or wrinkling that ages you prematurely.
Because dental implants act as natural tooth roots, your jawbone remains strong. You can enjoy a youthful appearance for years to come!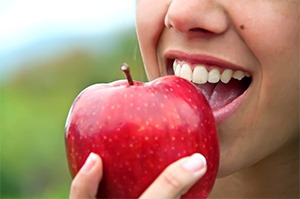 Maximize Your Chewing Power
Traditional dentures are notorious for sliding around when you're trying to eat. Since dental implants are firmly embedded in your jaw, an implant-retained restoration will stay in the same place, preventing awkward, embarrassing slippage. Most of your original biting and chewing force will be replenished, allowing you to enjoy all of your favorite foods. This can even benefit your overall health, as it will be easier to chew crunchy fruits and vegetables.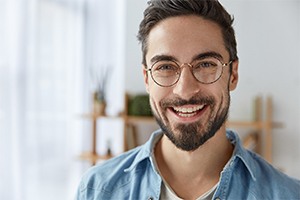 Enjoy Long-lasting Results
Unlike conventional bridges or dentures, dental implants can last for several decades if you take good care of them. Luckily, maintenance is easy. You'll basically care for them the same way you would care for natural teeth – with regular brushing, flossing, and routine checkups and cleanings.
Although dental implants might cost a bit more up front, their longevity can save you money in the long run. You won't have to get them repaired or replaced every few years. With all of the other benefits that dental implants have to offer, they're easily worth their weight in gold.
Who Dental Implants Can Help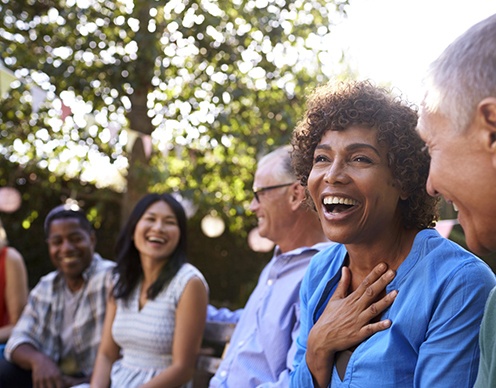 Dental implants are extremely versatile. With the right number of posts, you can fill in a single gap in your grin, or you can replace an entire arch of teeth. Before beginning the process, we may need to prepare your mouth in order to ensure that the implants can join with the bone successfully. (This might involve bone grafts or treatment for gum disease.) After that, the number of implants and type of restoration you receive will depend on your situation.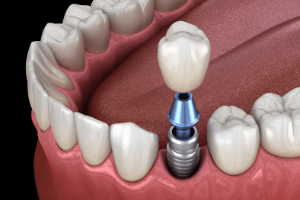 Missing 1 Tooth
The traditional method of replacing a single tooth is to file down the teeth on either side of the gap to make room for a bridge. In order to preserve the dental structure remaining in your mouth, we can instead place a single implant and attach a customized crown once your mouth has fully healed.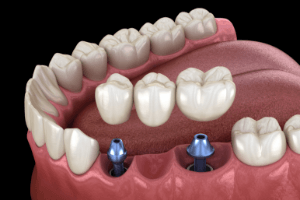 Missing Multiple Teeth
Implants don't have to just support individual missing teeth. With a pair of implants, we can place a dental bridge to restore several missing teeth at the same time. Implants can also be used to support partial dentures that replace teeth in several different areas throughout the mouth.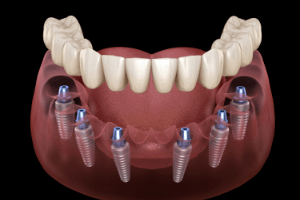 Missing All Teeth
It typically only takes about four to six implant posts to anchor full dentures to your upper or lower jaw. Implant dentures tend to be smaller than traditional ones, leaving more room in your mouth. Also, your new teeth will be permanently held firmly in place to prevent slipping at inconvenient times. Our dental office uses Prettau Zirconia dental restorations for greater durability and strength.
Mini Dental Implants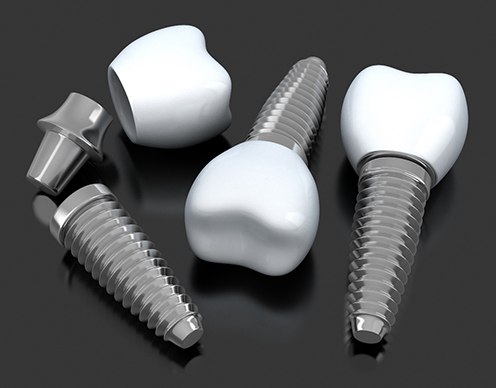 A mini dental implant is – naturally – far smaller than a normal dental implant. It still provides a stable base for dentures, but it's often far simpler to place. In many cases, they can eliminate the need for bone grafting, a step that is often necessary if you want to get traditional implants after bone loss has already occurred. They also reduce healing time and require fewer dental office visits. Don't forget to ask if mini dental implants are an option during your consultation.
Learn More About Mini Dental Implants
Understanding the Cost of Dental Implants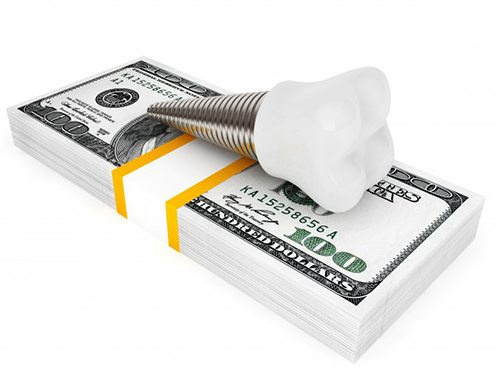 The dental implant process is personalized based on your unique needs, so the overall cost will be different for each person. On average, the initial cost for dental implants tends to be higher than that of bridges and dentures. The trade-off, though, is that with the right maintenance dental implants can easily last for decades, meaning you won't have to worry about paying for a replacement every 5 to 7 years; in other words, investing in implants can save you money in the long run.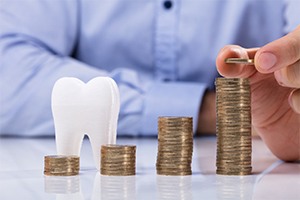 Dental Implants: An Investment
While dental implants tend to cost more than other options, their benefits are priceless. In fact, because dental implants can last for a lifetime with proper care, you may actually save money in the long run by avoiding replacements. Dental implants also look, feel, and function like your natural smile, allowing you to eat, speak, and laugh with ultimate confidence. Plus, dental implants stimulate your jawbone to prevent it from deteriorating after tooth loss, keeping your facial appearance healthy and full.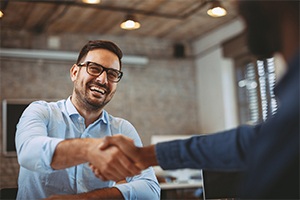 Dental Insurance & Dental Implants
Usually, dental insurance does not cover implant treatments, but this will all depend on your plan. In many cases, our friendly front desk staff can find ways to maximize your benefits while minimizing your out-of-pocket spending. Certain aspects of the procedure like your consultation or even necessary preliminary treatments can be covered, but this will vary from plan to plan. The best way to know is to contact our dental office! Our team will be happy to answer any questions you may have about insurance and cost of your treatment.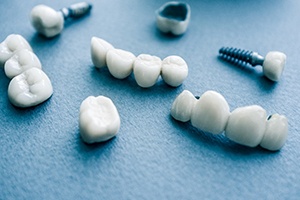 The Types of Dental Implants
Drs. Glen and Zachary Goldstein offer different types of dental implants based on your pattern of tooth loss. One of the main variables that can influence your cost is the type of implants that you need. Naturally, getting a single dental implant with one dental crown will cost less than getting numerous dental implants and a full denture. However, implant-dentures are often more cost-effective than single tooth dental implants when it comes to replacing many teeth at once. Additionally, the style, brand, and material of your dental implants will play a role in the final cost of your treatment.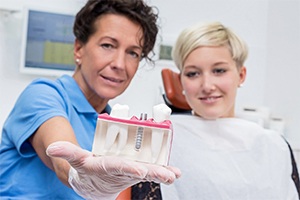 The Stages of Dental Implants Treatment
The dental implant process takes months, but the results allow you to enjoy benefits that last a lifetime. Each stage of the procedure incurs a unique cost that will add up to your total treatment fee. First, you'll visit Drs. Glen and Zachary Goldstein for a consultation. They will carefully examine your mouth before scheduling your surgery. Next, you'll receive implants that are surgically placed in your jaw. You must wait at least 3 to 6 months for your implants to fuse to your jawbone, which is a process called osseointegration. After, you'll come back in to see Drs. Glen and Zachary Goldstein, where they will place your restorations. Lastly, you can walk out of the dental office with a strong, beautiful, and functional smile.