Prettau Zirconia All-on-4 Dental Implants – Randolph, NJ
Restore Your Smile
in One Day
If you've lost all your teeth in one or both arches, implant-retained dentures are an excellent choice to regain the next best thing to what nature gave you. Unfortunately, you've been told in the past you don't have adequate bone density for the procedure. You're not out of options. All-On-4, 5, or 6 is an alternative to traditional dental implants. Drs. Glen and Zachary Goldstein can rebuild your smile in just one day with Teeth Tomorrow and Prettau airconia All-on-4 dental implants in Randolph, NJ.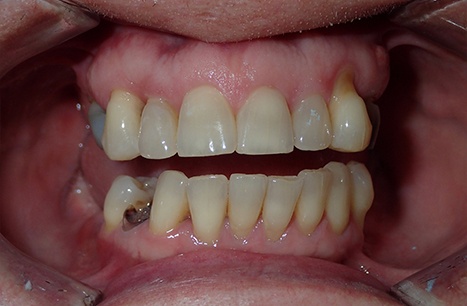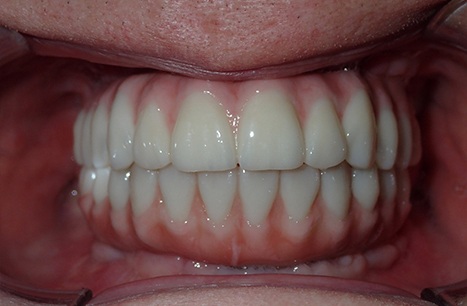 Why Choose Randolph Dental Care
for All-on-4 Dental Implants?
Entire Implant Procedure
Handled In-House
Dentist That Focuses
on Predictable Outcomes
High-Tech, Up-to-Date
Dental Equipment
How Do All-On-4, 5, and 6 Work?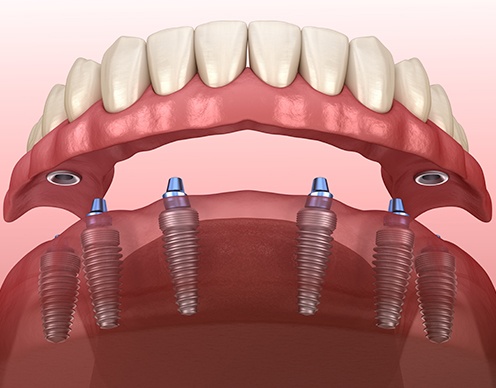 All-On-4, 5, and 6 are unique tooth replacement options that utilize the naturally denser parts of the jawbone to support a Zirconia permanent restoration. In some cases, Drs. Glen and Zachary Goldstein can place a temporary denture on the same day he completes the dental implant process. Patients who may not otherwise be candidates for dental implants may successfully undergo the procedure without needing bone grafting.
Although all methods are successful, Drs. Glen and Zachary Goldstein prefer All-On-5 or All-On-6 because they offer one tremendous benefit over All-On-4. If one dental implant fails, your entire smile isn't at risk because there are more posts supporting the denture. While you may need 1 or 2 more posts, don't worry, the cost is the same.
Am I a Candidate for Teeth Tomorrow?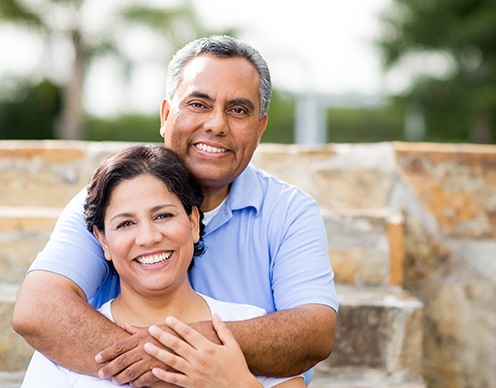 Any patient who is missing or needs to lose all their natural teeth on one or both arches may want to consider Teeth Tomorrow tooth replacement. You may be a candidate if:
You need to or wish to have all of your remaining teeth removed.
You've had a traditional denture for one or more years and experienced loss of gum tissue volume or jawbone density necessary to support a traditional implant denture.
You've waited several years after tooth loss and have experienced diminished jawbone density.
You have potentially immune-suppressing health concerns that will decrease your chance of successfully completing implant placement surgery.
You want the option to attach an immediate load denture, so you don't need to go without replacement teeth.
Benefits of
Teeth Tomorrow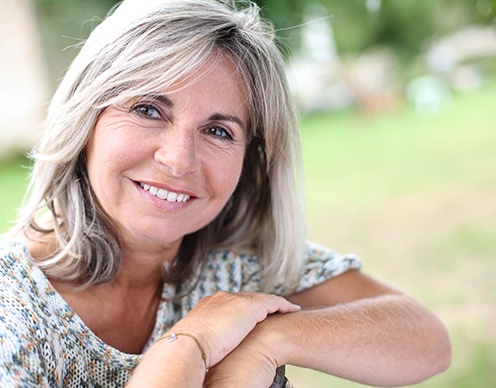 Besides replacing the entire tooth structure, including the root, Teeth Tomorrow provides a variety of benefits, including:
Over a 99.5% success rate. Two 5-year studies were completed in 2018.
Looks natural.
Regain as much as 100% of your biting force.
No need for bone grafting.
Teeth in one day.
Preserves your jawbone's density.
Supports your facial tissues.
No slipping or irritation.
No need to remove daily
Long-term, cost-effective treatment.
Teeth Tomorrow
or Traditional?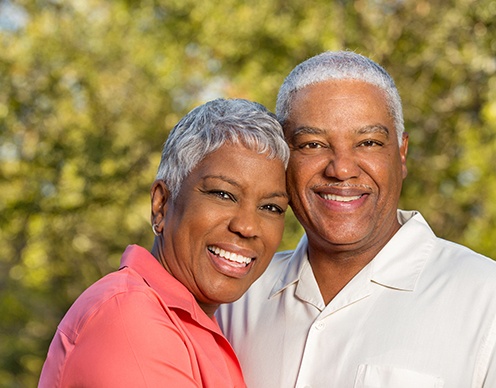 Typically, the process to replace missing teeth with dental implants takes several months to complete. Often, a patient needs additional procedures before having their implant posts inserted, such as bone grafting. This can add even more time to your treatment plan. Teeth Tomorrow simplifies the entire process.
Teeth Tomorrow FAQs
It's natural to have several questions about the dental implant process. Drs. Glen and Zachary Goldstein take the time to address your concerns during your initial consultation. In the meantime, here are the answers to a few of the most common questions we hear to help you make the best choice for your smile.
How many appointments do I need?
After your initial consultation, most people need 4 appointments or less to rebuild their smile with Teeth Tomorrow.
How many dental offices do I need to visit?
The entire process will be handled by Drs. Glen and Zachary Goldstein, so you won't be referred to an unfamiliar dental office.
How many dental implants will I need?
Your denture can be supported with as few as 4 implant posts; however, patients who use 6 posts for their upper denture and 5 for the lower have a 100% success rate. Drs. Glen and Zachary Goldstein will evaluate your oral health to determine the exact number you need.
What materials are used?
Teeth Tomorrow is unique because it's custom milled from a single piece of Prettau Zirconia. It is carefully crafted to meet your exact specifications to look and feel natural.
How long will my new smile last?
Your dental implants should never need to be replaced with the right aftercare. Prettau Zirconia restorations are designed to last for a lifetime.
Do I need bone grafting to support the implants?
Teeth Tomorrow virtually eliminates the need for bone grafting, but those who have suffered significant loss of their jawbone may still need the procedure.
Schedule Your Consultation Today!
If you're interested in finding out more about Teeth Tomorrow in Randolph, NJ, please don't hesitate to contact our team to schedule your tooth replacement consultation. Drs. Glen and Zachary Goldstein will evaluate your smile and help you decide if Teeth Tomorrow