Root Canal Therapy – Randolph, NJ
Saving Your
Infected Teeth
Dental pulp does not get better on its own. If it has been infected, the damage will spread until the tooth itself is lost. In order to keep your natural smile intact, we highly recommend having a root canal performed as soon as possible. This procedure is not nearly as painful as television would have you believe; in fact, one of its main benefits is actually to stop the chronic pain of infection! Call us today to schedule an appointment with Drs. Glen and Zachary Goldstein if you have a severe or persistent toothache and may need root canal therapy in Randolph, NJ.
Why Choose Randolph Dental Care
for Root Canal Therapy?
Multiple Types of
Relaxing Dental Sedation
Reliable Dentist with
Decades of Experience
Highly Realistic Crowns
for Restoring Teeth
The Root Canal Procedure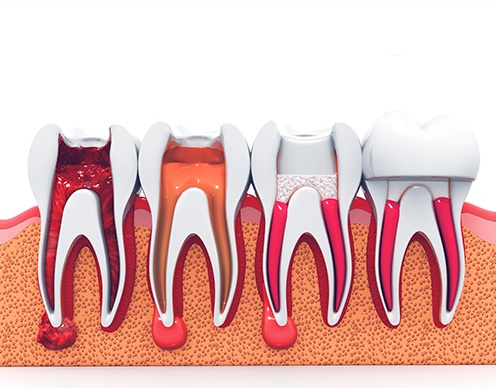 Your mouth will be numbed at the very beginning of the procedure so that you won't have to worry about discomfort during your visit. Once we've placed a dental dam to keep the tooth dry, we'll create an access hole in the enamel so that we can take out the pulp. After thoroughly cleaning the inner chamber of the tooth to remove any bacteria or debris that remains, we'll reseal the area. A crown is typically required to protect the tooth after the treatment.
Reasons for
a Root Canal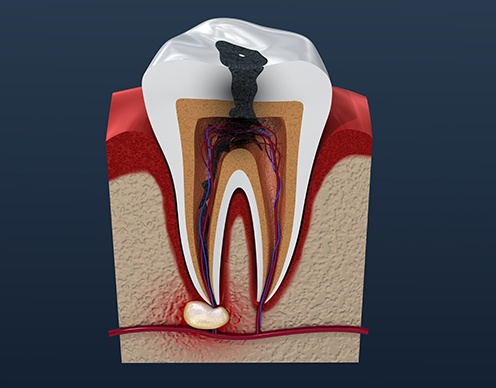 We'll need to perform a root canal if we find out that the pulp in the center of your tooth has become inflamed, irritated, or infected. There are a few different reasons why you might end up needing the procedure performed, such as:
Having a cavity that wasn't treated in time, allowing the bacteria to eat through the enamel and reach the pulp.
Suffering a chip or crack that exposes the inner layer of the tooth to infection.
Having long-term gum disease that has spread throughout your mouth.
Painful Pulp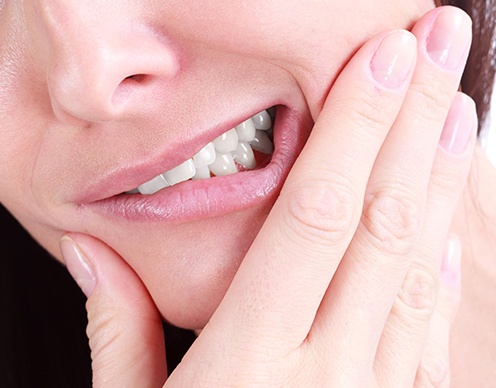 Your teeth contain several layers. These layers consist of the outer protective enamel, a secondary layer of sensitive dentin, and an inner pulp that contains components commonly referred to as the "nerve" of the tooth. Each pulp chamber branches off, forming canals that lead toward the tooth root tip. These infamous root canals provide a means for the tooth to absorb what it needs from the blood and get rid of toxins or other unnecessary materials via the bloodstream. A deep cavity, traumatic injury, or tooth fracture can make the canal susceptible to bacterial infection, which can kill the pulp, stimulate increased blood flow, and create pressure within the tooth. This can cause severe tooth pain, infection and may initiate bone degeneration, tooth loss, and even more acute pain. If you see a dentist in the earliest stages of this condition, the tooth may be saved with a root canal. Otherwise, it may have to be extracted and replaced with an implant.
Does Root Canal Therapy Hurt?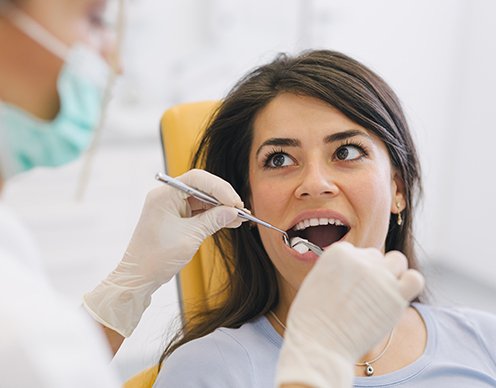 Not with today's advanced analgesics and technology. In fact, the entire process can be so comfortable that many patients doze off. Oftentimes, root canal therapy can be completed in a single appointment. With 3D imaging, all teeth are scanned. This gives us information about the intimate anatomy of your tooth. We then simply clean out the diseased canal, sterilize it, and fill it with a biologically-inert substance to seal it from further infection, and you're on your way. Afterwards, the tooth is restored with a CEREC® crown or a traditional crown. While some patients experience post-procedural soreness or slight tissue inflammation, these are controllable with over-the-counter analgesics and or antibiotics. Follow-up care involves thorough home hygiene and regular dental visits for cleanings and checkups.