Advanced Dental Services & Technology – Randolph, NJ
The Advantages of
a High-Tech Dental Office
At Randolph Dental Care, Drs. Glen and Zachary Goldstein and the team follow the latest trends in dentistry – actually it's quite exciting actually! We're proud to be at the forefront of dental advancements, offering our patients high-quality treatment that is convenient and comfortable. Not only does this save you from going to a hospital or imaging facility should you be in need of a Cat Scan, but it also allows us to see problems that an x-ray is unable to show!
Committed to State-of-the-Art & Comfortable Dental Experiences
Highly Detailed and Accurate
3D Scans
Precise Computer-Assisted
Treatments
Advanced Cavity Detection
Techniques
3D CT Scanning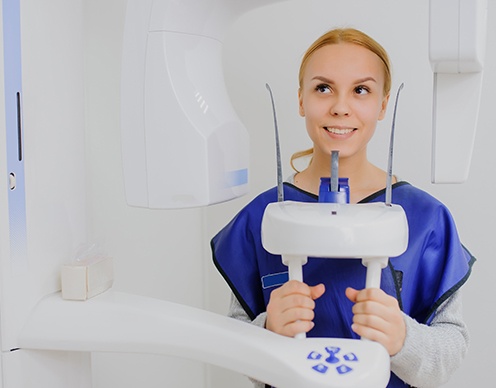 We have had this amazing technology for many years at our Randolph, NJ dental office. Once reserved for hospitals and imaging facilities, 3D units have come down in size and cost and are more accessible to the dental office. This technology gives us an unparalleled ability to treat and diagnose problems that will never show up on a traditional dental X-ray. This is because X-rays are 1-dimensional images of a 3-dimensional object. Patients routinely come to us from other dental offices because their dentist is unable to find the problem. You can't treat what you can't see! We routinely use this technology for dental implant planning and placement, root canal treatment to find all canals in a tooth (often 1 or 2 are missed), 3rd molar extractions (to avoid complications), imaging of the TM joint, and mysterious problems. Adding this technology has been one of the best concepts Drs. Glen and Zachary Goldstein have ever made part of Randolph Dental Care.
Computer Guided Dental Implant Placement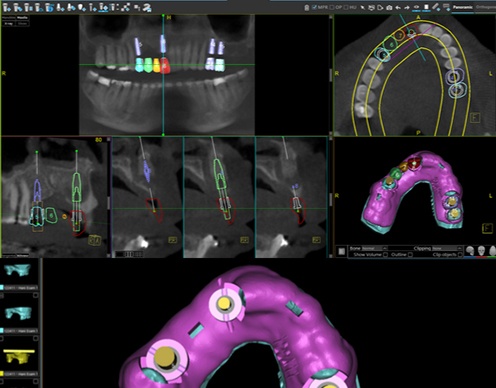 With the use of our 3D images and 360imaging™ application software, we are able to virtually plan out your implant surgery prior to dental implant placement. With this information, a stent is fabricated which is used during the surgery to guide the precise placement of your implant in three dimensions. This takes all the guesswork out of the process and provides for a much safer procedure.
Computerized
Shade Taking
This device is similar to what is used in a paint store to match colors. By placing a sensor against your tooth, we can match our restorative materials to your natural tooth with incredible accuracy. We use this technology routinely to match colors for bonding, porcelain crowns, and veneers.
Bite Recording
& Analysis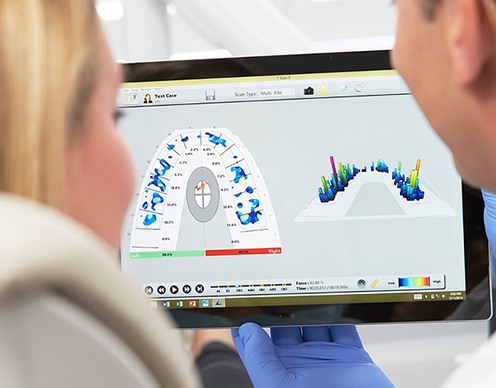 Tek-Scan is a revolutionary device we use to evaluate and balance your bite. The T-scan involves a handle with a sensor you bite down on which transfers pressure measurements. This information is displayed on a computer screen and gives us quantitative information about these relationships. Using this device in conjunction with bite adjustments, we can balance your bite to a point that is so finite it is almost impossible for you to distinguish.
Digital Radiography (X-rays)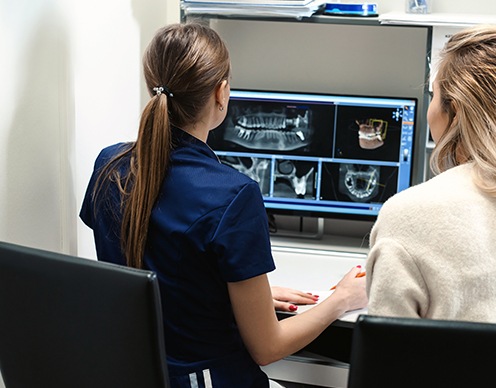 Today's digital X-rays are a notable step up from traditional radiography. For one thing, they're far safer in that they produce much less radiation and don't require environmentally harmful development chemicals. They also produce clearer images in far less time. In particular, our Dexis X-rays are designed for efficiency, significantly reducing the amount of time needed to capture the required images of your teeth.
Learn More About Digital X-rays
Air Abrasion Drill-less Dentistry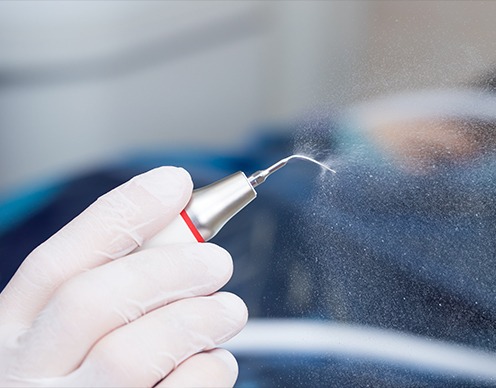 Air abrasion is a relatively new means of decay removal and serves as a tool in tooth preparation that we often use in place of the traditional dental drill. This innovative system allows us to conserve more of the patient's natural tooth structure and reduce the risk of enamel micro-fracturing. Because the equipment does not produce vibration or heat, patients usually require no anesthetic. Air abrasion is quieter, faster, and more comfortable than traditional drilling.
DIAGNOdent® Laser Cavity Detection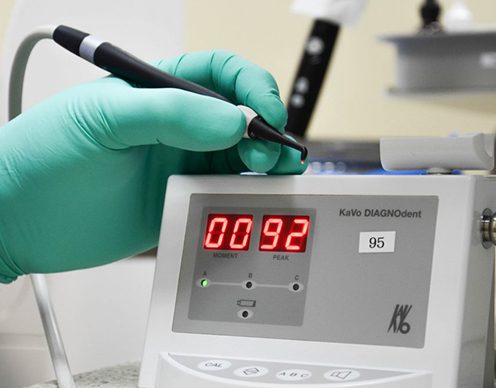 With the DIAGNOdent pen, it's far easier for us to find decay wherever it lies in your mouth. This simple, easy-to-use tool uses a special light to highlight the areas where cavities are likely to have formed. Using DIAGNOdent allows us to detect early decay as well as infected or damaged tissue that we might have missed otherwise, meaning we can intervene early and potentially prevent the need for more complex procedures later down the line.
Intraoral Cameras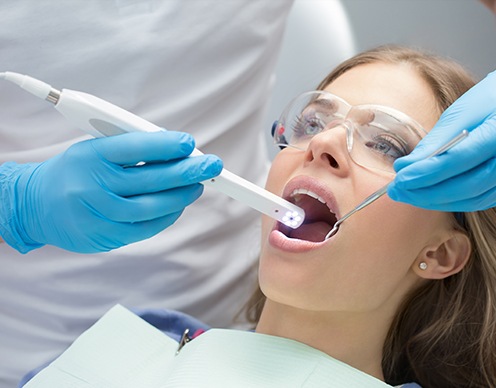 As the patient, viewing your dental problems can at first seem overwhelming, but consider the experience as the first step toward a healthier, fresher smile. The camera may reveal the early stages of potentially serious problems, therefore allowing you the opportunity to address or prevent small problems before they escalate. This is especially helpful with gum disease and conditions that cause damage without causing pain. The camera's honest survey can also show you how your regular home hygiene routine is paying off. Drs. Glen and Zachary Goldstein (or their hygienist) can recommend ways to improve your homecare based on their findings.
Doppler Auscultation
Using a device called a doppler, we are able to listen to sounds in your jaw joint. It is similar to an ultrasound. These sounds, or lack thereof, help us to make a precise, accurate diagnosis of your jaw joint. We use this on all of our new patients. Many who come to us never realize that they, in fact, have a jaw problem.
Biolase
Dental Laser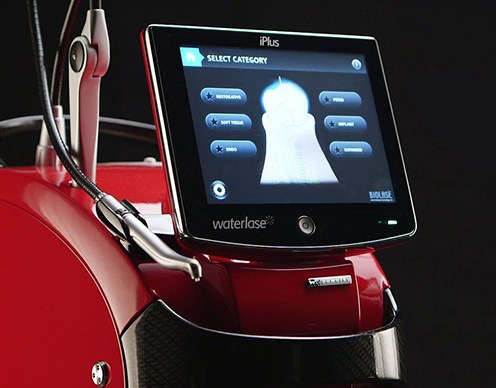 The laser itself is much more precise than traditional dental instruments. As a result, less unnecessary tissue is removed, and your mouth won't need as much time to heal afterwards.
Learn More About Biolase Laser Dentistry
Trios® Digital Impression System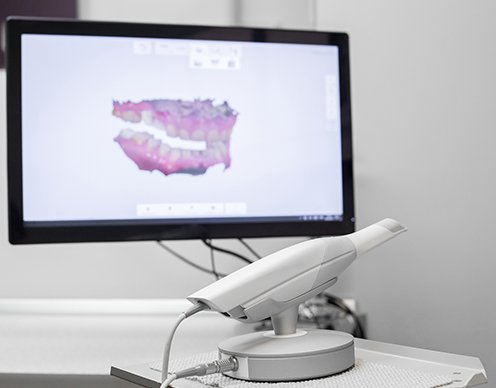 Instead of using uncomfortable, messy, and outdated impression material, our dental office favors digital impressions when designing restorations and planning certain procedures. Our Trios digital impression system involves the use of a highly versatile wand that takes multiple pictures of your teeth from various angles. All of these images are combined into a single 3D image, giving us a useful digital model to use as a reference. Impressions taken this way tend to be much more precise and reduce the need to take a new one.
Learn More About Trios® Digital Impressions
CARIVu® Cavity Detection System
It's sometimes all too easy to overlook decay without realizing it. The CARIVu Cavity Detection System gives us a deeper more enhanced view of any cavities that might be visible in your mouth. The device uses transillumination technology that makes the enamel transparent. Any area affected by decay will absorb light, meaning it will appear darker. We'll also have a chance to examine the structure inside the tooth and see if there are any developing issues that need to be addressed in the near future.