Invisalign – Randolph, NJ
A Clear Improvement in Orthodontic Care
Do you want straighter teeth without metal wires or brackets? Invisalign may be the answer for you! This revolutionary treatment gently straightens teeth using clear aligners that are virtually invisible. In fact, they are so discreet, your friends and co-workers won't believe you're receiving treatment – until your new smile is revealed! Drs. Glen and Zachary Goldstein are experts in oral function and are proud to offer this revolutionary product at our conveniently located office in Randolph. To learn more about this teeth-straightening solution, you can schedule an appointment with our team or simply keep reading!
Why Choose Randolph Dental Care for Invisalign?
Highly Trained and Talented Dentists
State-of-the-Art, Modern Dental Facility
Dental Insurance and Flexible Financing Welcome
How Invisalign Works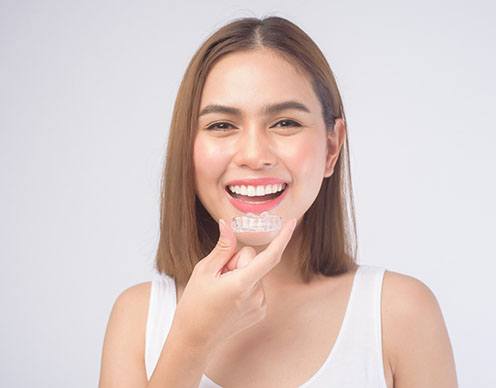 While the technology behind Invisalign is incredibly complex, the process itself is easy to explain. In short, your Randolph dentist will use a series of discreet clear aligners to gradually guide your teeth into their properly aligned positions. Since each tray picks up where the previous one left off, it won't take long for you to see progress! There are no dietary restrictions or complicated oral hygiene regimens either – you just need to commit to wearing your trays for 22 hours a day.
Indications for Invisalign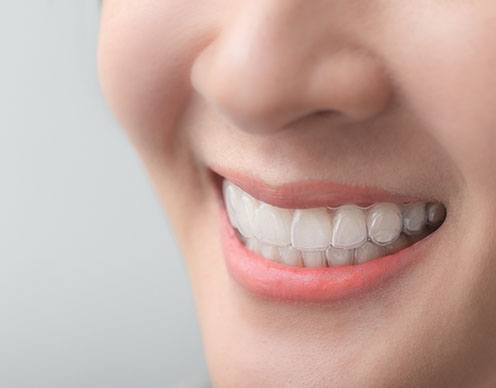 Unlike other systems, Invisalign allows you to correct misalignments, as well as problems with your bite. Most often, the clear aligners are used to correct:
Crowded Teeth
If your teeth are overlapping, you might have trouble smiling confidently, brushing your teeth properly, and chewing correctly. Fortunately, Invisalign can address this orthodontic issue head-on! With a custom series of trays, our team can carefully move your teeth into their ideal positions, benefiting the look and function of your smile in the process.
Gaps Between Teeth
Spaced-out teeth are another problem that can negatively impact your smile. Once again, the clear aligners are up for the task! By wearing each aligner for 7-14 days at a time, the gaps between your teeth will become smaller and smaller before disappearing entirely.
Bite Alignment
If your bite doesn't come together evenly, there's a good chance you're not breaking down your food properly. Plus, you're more likely to grind and clench your teeth, which can lead to premature wear! The good news is that Invisalign can correct a number of bite problems, including overbites and underbites.
The Benefits of Invisalign
Invisalign comes with several benefits. A few noteworthy ones include:
Clear – The aligners are made from clear acrylic that molds to your teeth, making them virtually undetectable.
Removable – One of the greatest benefits of Invisalign over traditional braces is that you can remove the aligners at will – to brush, floss, or for special occasions.
Comfortable – Say goodbye to the mouth sores and abrasions caused by poking metal wires and brackets.
Fast – The average treatment time is less than one year.
Understanding the Cost of Invisalign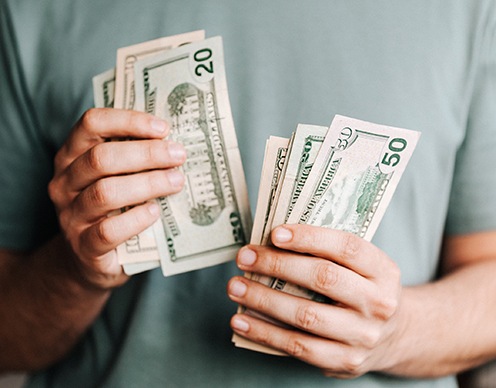 Contrary to what you might have heard, Invisalign can cost about the same as traditional metal braces. Every mouth and situation differs, so there's no flat fee for clear aligners. Many factors affect the cost of Invisalign in Randolph, but our team at Randolph Dental Care strives to keep a straight smile affordable for everyone.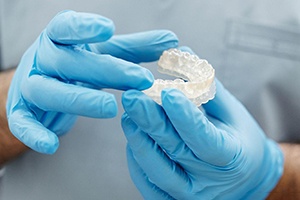 Factors That Affect the Cost of Invisalign
Your Invisalign dentist in Randolph will examine your mouth and learn more about your goals to ensure Invisalign is right for you. They'll create a personalized estimate based on your treatment plan. Factors that can affect the amount you pay may include:
Preparatory Treatments: It's not uncommon to need a little prep work, like a teeth cleaning or gum disease therapy.
Number of Arches: Although single arch treatment is possible, it's not suitable for most patients.
The Complexity of Your Case: Major tooth movements will require more aligners.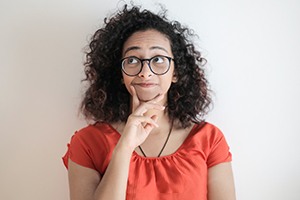 Invisalign vs. Smile Direct Club™: Which Costs More?
Mail-order aligners are marketed as an affordable, convenient option by cutting out the middleman. While you may save money, it can cost you more in the long run. You may even experience irreversible damage to your smile, like tooth loss. Since you never see a dentist during your treatment, you may not even be a candidate for clear aligners. Not to mention, any issues during your treatment won't be detected, which can lead to serious complications that can be costly to resolve, like an unbalanced bite. Instead, it's better to invest in the experience and qualifications of a trained professional who will be by your side during your entire treatment. You'll have peace of mind knowing you'll achieve the best results without placing your smile at risk.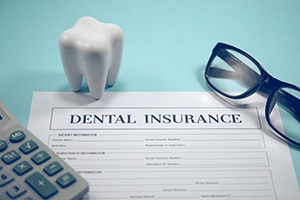 Does Dental Insurance Cover Invisalign?
Many dental plans that have orthodontic coverage can be used to offset the cost of Invisalign. Your benefits may cover your consultation, imaging, and prep work. After meeting your deductible, your insurance will pay a set amount, which can range from $500 to $2,000, depending on your policy. A member of our team will work on your behalf with your dental insurance to maximize your benefits. They'll explain how your coverage is being used and any remaining balance.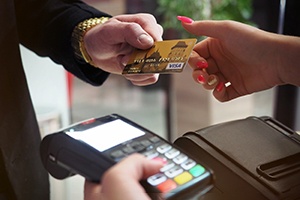 Options for Making Invisalign Affordable
Besides using your dental insurance, our office offers various financial solutions to keep Invisalign in Randolph within everyone's budget, including:
Traditional Payments: Randolph Dental Care accepts all traditional payment methods, including cash, personal checks, and credit cards.
Special Offers: We offer regular promotions for specific services designed to save our patients money.
Monthly Payments: You can pay any out-of-pocket expenses using a monthly payment plan through a third-party financing company, like CareCredit. You can benefit from little or no interest in financing based on your credit approval.
If you have questions about your payment options, or you're ready to schedule your Invisalign consultation, contact our office today.