CEREC® One-Visit Dental Crowns & Onlays – Randolph, NJ
No Need to Wait
to Fix Your Smile
Crowns and Onlays can return function and beauty to a tooth that's badly decayed, cracked, or broken. In the past, the dentist would send out the crown's specifications to a lab, requiring the patient to be seen over the course of 2 appointments - one for preparation and design, and one (weeks later), for placement of the crown. With CEREC® 3D, Drs. Glen and Zachary Goldstein can create beautiful, all-ceramic crowns and onlays in just one appointment - right in their dentaloffice. The real beauty of CEREC® is that we can preserve parts of a tooth (or teeth) that would oftentimes be ground down in preparation for a complete crown. After having removed the old restoration along with the decay and weak parts of the tooth, Drs. Glen and Zachary Goldstein (with the use of CEREC® Technology) can recreate whatever fraction of the tooth's structure that had to be removed while leaving the healthy part of the tooth fully intact. In other words, CEREC® one-visit dental crowns and onlays in Randolph, NJ can create the missing piece. We consider this the middle ground between a filling and a crown. Our goal is to preserve as much of your natural tooth as possible.
Why Choose Randolph Dental Care
for CEREC® One-Visit Dental Crowns & Onlays?
Convenient Appointment
Hours Available
Comfortable,
State-of-the-Art Dental Office
Reliable, Long-Lasting
Material for Crowns
What is
CEREC® 3D?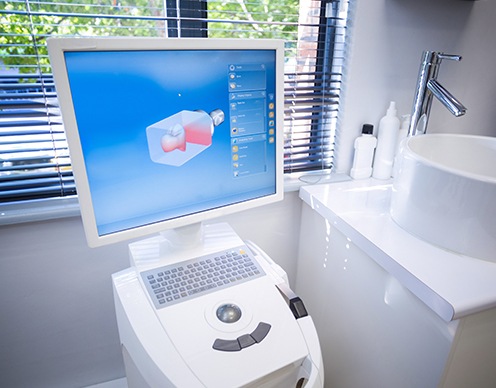 CEREC is an acronym for Chair-side Economical Restoration of Esthetic Ceramics. The latest model (CEREC 3D) represents improvements in design and function over their previous models. We have been providing this technology for almost 20 years now and have placed well over 2,000 restorations. We are one of about 12,000 dentists nationwide to provide this technology. Dentists have been using the CEREC system for over 3 decades. In fact, more than six million CEREC restorations have been placed worldwide.
Are CEREC® Dental
Crowns Safe?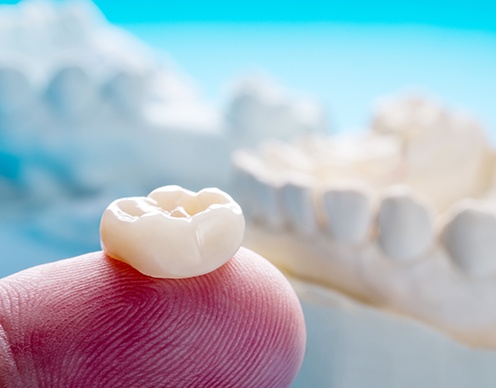 CEREC crowns are all-ceramic and metal-free, meaning they contain no hazardous mercury. The beauty and strength of ceramic materials have long been recognized as being superior when it comes to dental restorations. They are biocompatible, anti-abrasive, and plaque resistant. It can be made to match the shade of your natural teeth so closely that even you will forget which tooth has been restored. Studies show that CEREC restorations also strengthen teeth. A tooth restored using a CEREC Onlay has 103% to 115% the strength of a virgin tooth.
How does
CEREC® work?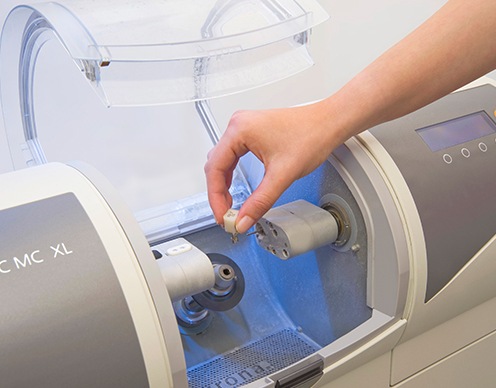 A thin layer of white powder is painted on the surface of the tooth. We use a special, infrared camera to take a picture of the tooth. Using this picture (which is actually a pin-sharp optical impression of the prepared tooth), we design the final restoration. In other words, instead of sticking gooey impression material in your mouth, we take a picture. Not only is it more pleasant for you, it is also more accurate.
Computer Aided Design (CAD) technology helps us design the restoration from the optical impression. We'll design your restoration in the CAD program while you watch. The restoration's size and shape are designed to match your natural teeth and provide ideal function.
Once the design is complete, Computer Aided Manufacturing (CAM) creates an extremely precise restoration from a solid block of porcelain. For teeth requiring crowns, we apply custom stains and glaze the crown in a porcelain oven - right in our Randolph, NJ dental office!
Your custom restoration is then bonded to your tooth using state-of-the-art adhesive materials. There is never a need to place a temporary crown (which at times can be uncomfortable) prior to fabricating and placing the permanent crown. As a result, there is no need for a second appointment. You now have a strong, healthy tooth that looks great! – and in just one visit!
Is CEREC® 3D
Right for me?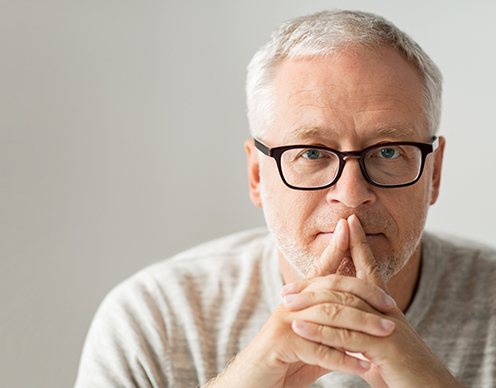 We can create nearly any type of restoration using CEREC 3D. Crowns, veneers, inlays, and onlays can all be created with the CEREC system. However, not all every tooth is a candidate for CEREC technology. Teeth which have been destroyed by clenching are not candidates, simply because the ceramic restoration could be destroyed in the same way. All in all, the earlier the damage is diagnosed and treated, the better the results will be, no matter what system or technology we use. To find out if CEREC technology is right for you, schedule an appointment with Drs. Glen and Zachary Goldstein.