Restorative Dentistry – Randolph, NJ
We Can Complete
Your Smile Again
Dr. Goldstein has been helping patients with damaged teeth enjoy dazzling, functional smiles again for over 30 years. Broken or missing teeth can limit the kinds of foods you can eat, put you at risk for cavities and other oral health issues, and cause you to look older than you are. With the right kind of restoration, you can reverse the damage to your grin so that you can chew, speak, and smile with full confidence again. Call us today to schedule an appointment for restorative dentistry in Randolph, NJ if you're suffering from a cracked, decayed, or otherwise damaged tooth.
Why Choose Randolph Dental Care
for Restorative Dentistry?
Entire Implant Process
Handled Under One Roof
State-of-the-Art Dental
Technology and Materials
High-Quality Crowns
Available in Just One Visit
Tooth-Colored Fillings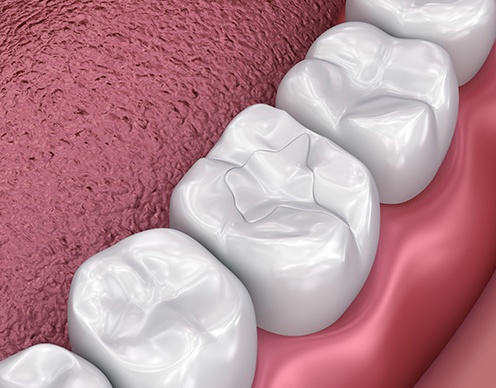 If you have a cavity, we can remove the decay and replace the lost dental structure with a filling. Thanks to modern materials, you won't be left with an attention-grabbing grey mark on your tooth. Our dental office instead uses composite resin, which closely resembles natural tooth enamel right down to the way it reflects light. Once we've color-matched it to your tooth, it will blend right in with the rest of your smile so that no one can tell you ever had a cavity at all.
Learn More About Mercury-Free Tooth-Colored Fillings
CEREC® One-Visit Dental Crowns & Onlays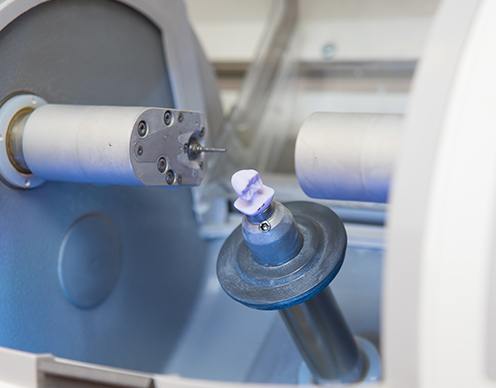 For teeth that are too badly damaged for a filling, a crown is typically the best option. One downside of this type of restoration is that you typically have to make multiple appointments to have it designed and placed. To make sure your tooth is repaired as soon as possible, we've adopted CEREC technology at our dental office. After scanning your tooth and designing your crown, we'll send the data to a special milling machine that will create the restoration right then and there out of a block of porcelain. The crown can then be bonded in place. All in all, with CEREC we can fix your smile in about an hour!
Learn More About CEREC® One-Visit Crowns & Onlays
Dental Bridges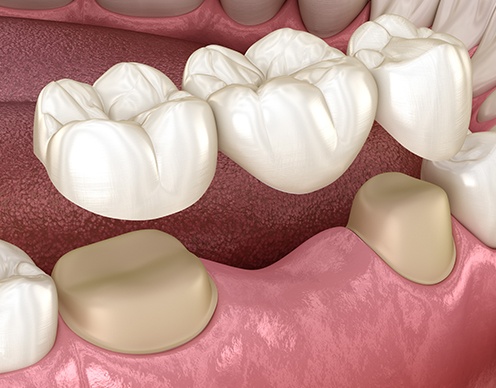 A dental bridge is made up of one or more prosthetic teeth. They are held in place with dental crowns that have been anchored to natural teeth or dental implants. Filling in empty space with a dental bridge will restore your appearance, but more importantly it helps prevent nearby teeth from shifting out of place, thus preventing alignment problems in the long term. Bridges can be made out of the same natural-looking materials as crowns.
The Prettau Bridge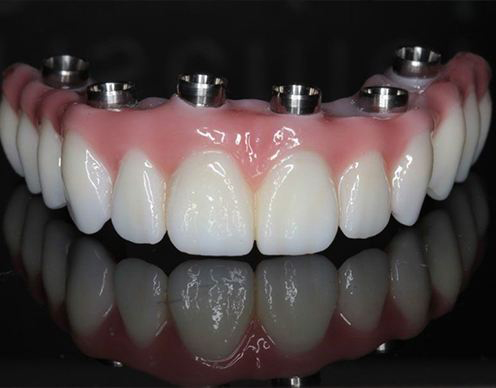 The Prettau Bridge is a state-of-the-art dental technology. The Prettau Bridge is designed using unique CAD/CAM fabrication techniques and durable zirconia, the hardest dental material available in dentistry. The Prettau Bridge protocol also utilizes a temporary screw retained bridge milled and designed with CAD/CAM technology and plastics to immediately restore the full form and functioning of your missing teeth.
Learn About the Implant Retained Prettau Bridge
Dentures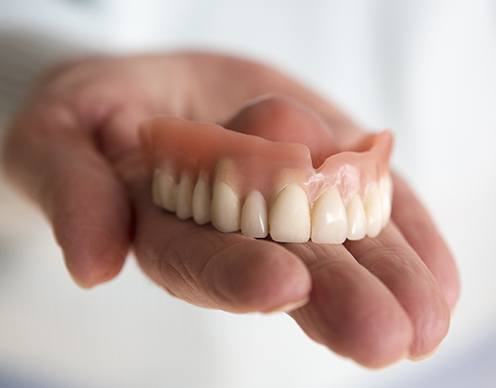 You might remember your grandparents' dentures looking rather bulky, but nowadays false teeth are much smaller and natural-looking. They're more comfortable as well and can be customized to fit snugly over your gums. Traditional dentures are removable, which allows for easy care and cleaning. If they're attached to dental implants, however, you'll enjoy a much stronger and more stable bite. You can get full dentures if all or most of your teeth have been lost; partial dentures are also available if you have gaps in multiple areas of your mouth to fill.
Learn More About Full & Partial Dentures
Dental Implants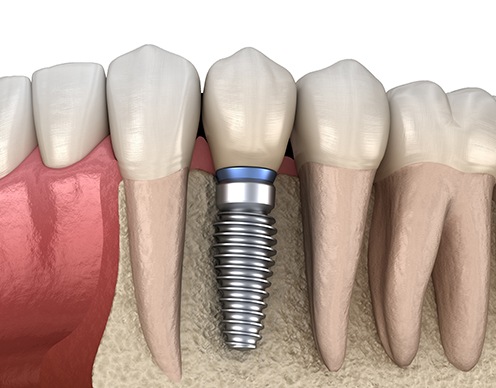 Traditional tooth replacements only replace the crown of the tooth. Implants, on the other hand, can also replace the root, anchoring your dental prosthetic in place. The end result is that your new teeth will look, feel, and function just like the real thing, and with the right maintenance they can last for the rest of your life. Dr. Goldstein can perform all of the steps in the dental implant process – including placement and any necessary bone grafts – under one roof.