Mini Dental Implants – Randolph, NJ
Alternatives to Traditional
Dental Implants
Traditional dental implants are a wonderful tooth replacement option. In fact, they have helped countless individuals to forget about all the woes of tooth loss, and they will continue to help people for generations to come. However, some patients may qualify for an alternative type of dental implant: mini dental implants from our Randolph, NJ dentist. On this page, you will learn more about mini dental implants and the benefits they offer.
Why Choose Randolph Dental Care
for Mini Dental Implants?
State-of-the-Art
Equipment and Facility
Dentist with 33 Years
of Dental Experience
All Implant Services
Completed In-Office
What Are Mini Dental Implants?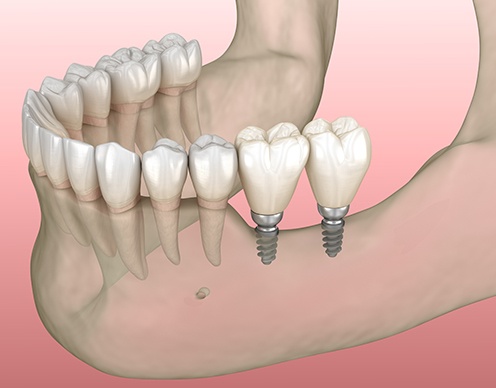 Mini dental implants are just what they sound like: small dental implants. However, they are not smaller in length just in their diameter. Whereas a traditional dental implant might be 4 – 5 mm in diameter, a mini dental implant is usually around 2.5 mm in diameter.
Some dentists exclusively place mini dental implants because they are less invasive and easier to place than their traditional counterparts. However, while mini implants are an ideal solution in many cases due to inadequate bone for traditional implants, they are not always the best option. When you visit Drs. Glen and Zachary Goldstein for your tooth replacement consultation, they will carefully evaluate the state of your oral health and your jawbone before they make a treatment recommendation.
Advantages of Mini Dental Implants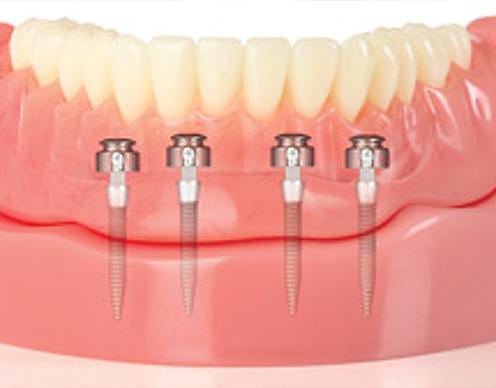 We already mentioned that mini dental implants are less invasive and easier to place than traditional ones. Additional advantages they offer include:
They have a faster average healing time
They may be less expensive than traditional implants
They fit better into narrow spaces or where the bone is relatively thin
They provide a strong base of support for replacement teeth
They may eliminate the need for a bone graft
They provide excellent support of your dentures
How Do Mini Dental Implants Work?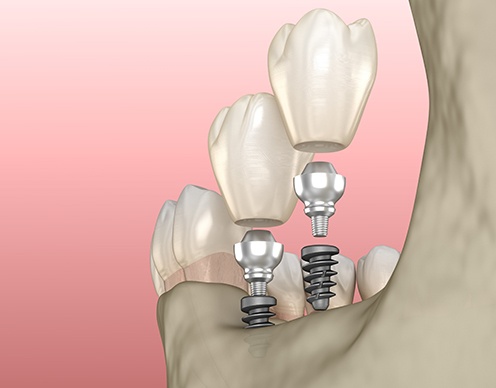 The treatment process with mini dental implants is quite similar to the treatment process for traditional dental implants. After any necessary preparatory treatment, you'll undergo a minimally invasive surgery. Often times no incisions are made. The mini implant will be carefully placed into the bone right through your gums. Your body will heal around the implant. The bone will bond with it so it can provide an incredibly strong base of support for the prosthetic that will go on top of it. Mini dental implants may support crowns, bridges, but mostly dentures. The good news is that oftentimes your dentures can be linked to your implants the same day.
The Cost of Mini Dental Implants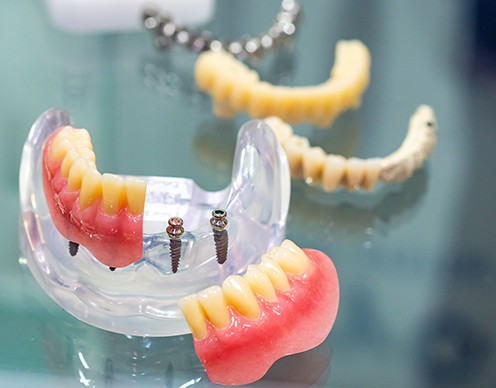 Our team will give you an estimate for the cost of your treatment during your consultation. The price will depend on how many mini implants you need, as well as other factors. We can also help you explore your payment options so you can decide on how best to fit your new smile into your budget. Although any type of dental implant procedure presents a significant upfront cost, you can be confident that you are making a smart investment in your oral and overall health.
Would you like to learn more about mini dental implants? Contact Randolph Dental Care today to schedule your consultation.