Cosmetic Dentistry – Randolph, NJ
The First Step Towards
a Flawless Smile
Have you been dreaming of having a beautiful smile to show off during important meetings and social events? Here at Randolph Dental Care, Drs. Glen and Zachary Goldstein can repair damaged teeth, brighten your enamel, or make multiple other corrections thanks to a variety of modern cosmetic dental treatments. We can plan a full smile makeover that leaves you with a confident, dazzling grin. Contact our dental office today to schedule a consultation to discuss options for cosmetic dentistry in Randolph, NJ!
Why Choose Randolph Dental Care
for Cosmetic Dentistry?
State-of-the-Art
Dental Technology
High Quality,
Long-Lasting Materials
Dentist with Decades
of Experience
Porcelain Veneers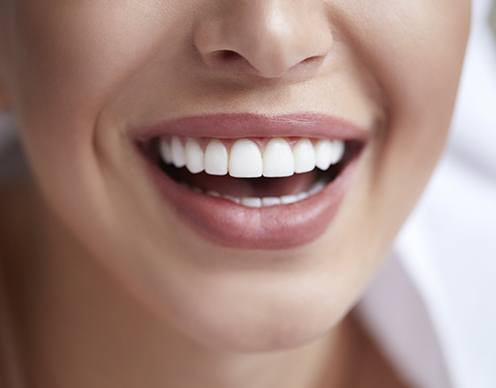 A porcelain veneer is an extremely thin type of restoration designed to be placed over the front surface of your tooth, completely hiding it from view. This means every chip, crack, stain, or other imperfection that has appeared on the tooth over the years is covered up. This is a great way to transform your smile quickly instead of undergoing multiple costly, time-consuming treatments! Veneers are custom designed to look extremely natural, and they resist stains far better than natural teeth do.
Metal-Free Dental Crowns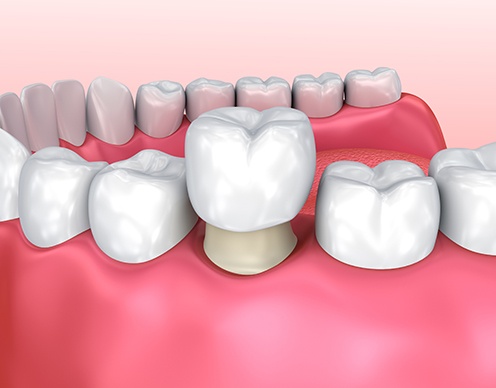 At one point, crowns had to be made out of dark silver or gold materials. Such metal restorations are still used today, but here at Randolph Dental Care, we offer metal-free crowns that are as beautiful and lifelike as they are reliable. Our dental office uses Emax® crowns that come in a wide range of shades, helping them blend in perfectly with the rest of your smile. Each restoration is carefully designed and processed to fit as perfectly as possible.
Cosmetic Dental Bonding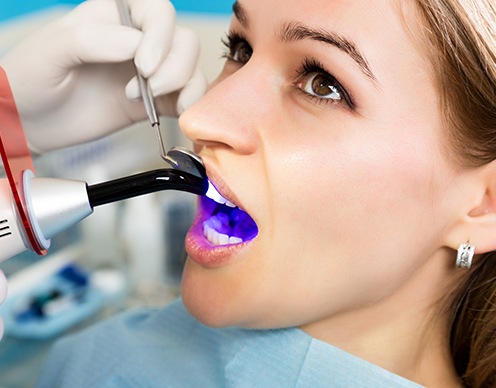 Cosmetic bonding is often recommended for patients who want to make quick, minor corrections. For example, if you have a slightly misshapen tooth or a small gap in your grin, cosmetic bonding can be used to cover the area in question. We'll apply a small amount of composite resin (which is also used to make natural-looking fillings) to the tooth and harden it in place with a special light. The entire process can be completed in just one visit!
Learn More About Cosmetic Bonding
Teeth Whitening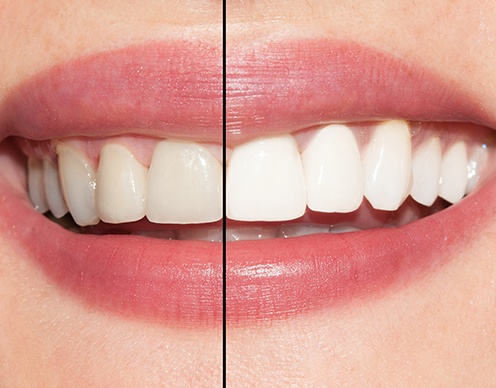 Plenty of people suffer from dental discoloration at some point in their lives, but that doesn't mean you have to be stuck with a smile that's not as bright as it used to be. In-office and at-home whitening treatments can help your teeth shine again thanks to a solution that's far stronger than the products you can buy over the counter. Our dental office offers both ZOOM! and KoR whitening depending on what your individual needs are.
Learn More About ZOOM!® Teeth Whitening
Learn More About KoR® Teeth Whitening
Gum Recontouring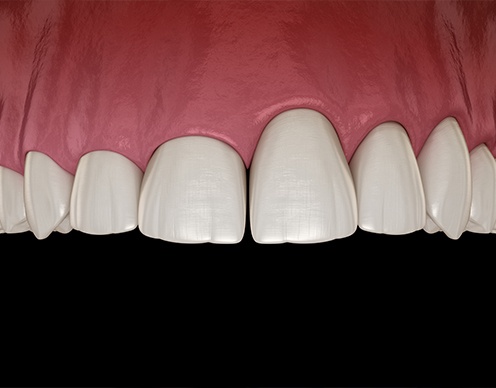 When you smile, all attention should be on your teeth. An excessive amount of gum tissue could get in the way and end up making your teeth look smaller than they should. With gum recontouring, we can remove the tissue that's not needed, exposing the teeth and giving your entire grin a more balanced look. A similar procedure is sometimes performed in order to make room for a dental crown or another type of restoration.
Virtual Smile Design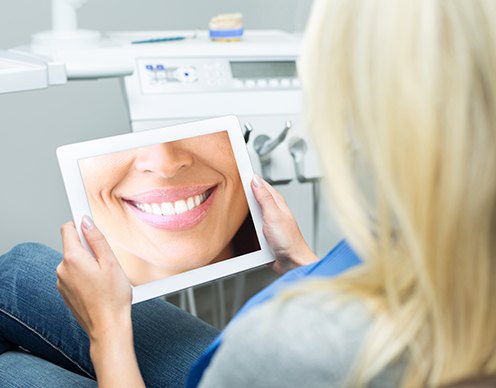 Having a hard time imagining what your smile will look like after your treatment? It's important to set realistic expectations, but you also need to be confident that you'll be satisfied with the results. Our virtual smile design software helps us simulate any number of cosmetic treatments so that you can see for yourself how they can transform your teeth. Feel free to take the results home with you if you need time to sleep on your decision.
Botox/Juvederm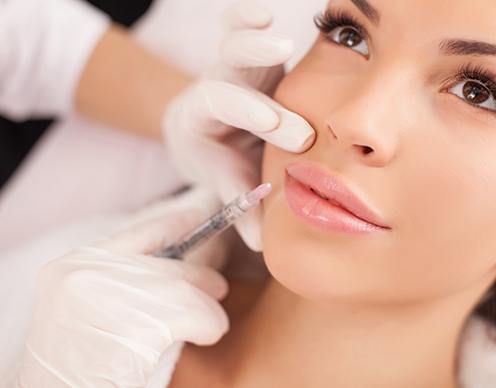 The fine lines and wrinkles that form on your face can leave you looking and feeling older, but with Botox and Juvederm, we can restore your youthful appearance. A Botox injection will stop your facial muscles from constricting, giving the skin a chance to relax. Juvederm is a filler that can be used to smooth out specific wrinkles. Both are used to address specific lines on your face; we'll discuss which one is right for you during your initial consultation.
Learn More About Botox/Juvederm
Cosmetic Dentistry FAQs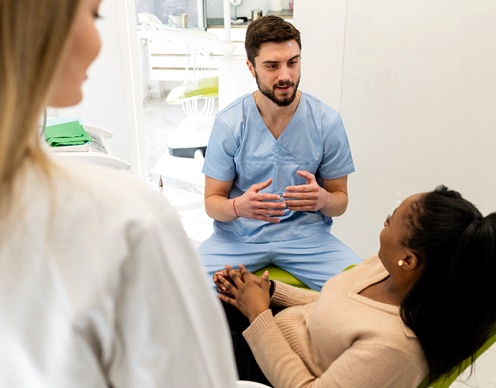 Feeling disappointed in your smile when you look in the mirror? Don't get down on yourself – it's not uncommon and you have the opportunity to make a change! Thanks to your cosmetic dentist in Randolph, you can gain a grin you want to share with the world. If you've never received cosmetic dental treatment before, it's logical that you want to learn more about it. To help you out, our team at Randolph Dental Care has decided to answer some frequently asked questions from past patients. If you don't see your question below, contact our office!
How Do I Know If I Need Cosmetic Dentistry?
Honestly, there's a particular treatment available for anyone unhappy with their smile. If you want whiter teeth, professional teeth whitening is an option you can explore. If you have chipped or cracked teeth, talk to us about getting veneers or dental bonding. Rest assured – there's a cosmetic solution for almost every problem! The only way to know for sure whether you're eligible for the treatment you seek is to attend a consultation with our team. We'll recommend specific procedures based on the changes you want to make.
Am I Eligible for Cosmetic Dentistry?
Not everyone makes a good candidate for cosmetic dental work. To qualify, you must be free of cavities, gum disease, and other health-related issues. Once your dental health troubles have been addressed, we can revisit cosmetic treatment options. To see if you are eligible for cosmetic dentistry, you'll first need to meet with us for a consultation. After a thorough examination, we can tell you whether you are clear to move forward, and it offers the perfect opportunity to ask any questions you might have!
Does Cosmetic Dentistry Hurt?
Many patients are hesitant to receive cosmetic treatment because they're worried it will be painful. Just know that we'll prioritize making your experience as comfortable as possible! Some services like teeth whitening are noninvasive, meaning you shouldn't even need a local anesthetic. However, treatments like veneers will require your dentist to numb your mouth beforehand. Although you might feel mild soreness and discomfort in the first few days following your procedure, you can easily manage it by taking over-the-counter pain medication or using a cold compress.
How Long Does Cosmetic Dentistry Last?
It depends on the type of cosmetic treatment you choose. Some options last much longer than others, such as veneers or metal-free dental crowns which have a lifespan of 15 years or more with proper care. With at-home teeth whitening, once you reach your desired shade, you use your kit every 3-4 weeks for touchups to maintain your bright smile. The lifespan of dental bonding is generally 5-10 years. It's key to remember that oral hygiene, health, and lifestyle habits all impact the lifespan of any cosmetic dentistry option.