Full & Partial Dentures – Randolph, NJ
Completely Replace
All Your Lost Teeth
A smile just isn't a smile if it's incomplete. Missing teeth cause a host of problems from difficulty in speaking and eating, to low self-confidence, to jawbone deterioration. Don't give up on your smile. Advances in dental materials and technology have made full and partial dentures in Randolph, NJ more lifelike and comfortable than ever.
Why Choose Randolph Dental Care
for Full & Partial Dentures?
Kind Dentist with
Decades of Experience
Implants Placed and
Restored In-House
State-of-the-Art
Technology and Materials
What is a Partial Denture?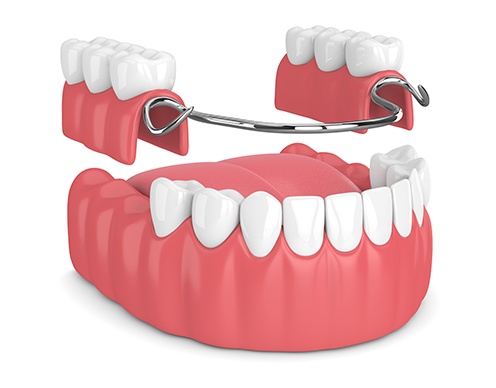 A partial denture, commonly referred to as simply a partial, consists of multiple teeth on a base that are the same color as your natural gums. The teeth are not in a row, but rather spread across the base to fit like a puzzle with your existing teeth. A partial denture is normally secured with clips or brackets, but unlike a bridge, a partial denture is removable. Our most common partial is called a precision partial. Crowns (caps) are placed on key teeth in your mouth, and the partial is made to slip into little slots in the crowns (similar to a lock and key). The beauty of this design is rock solid stability, no twisting of your teeth, and best of all, no visible clasps.
What is a Denture?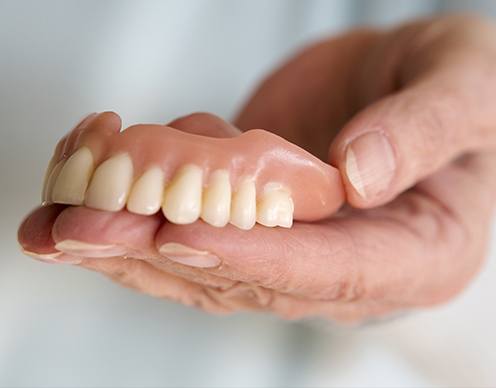 A full denture is a complete top or bottom row of teeth mounted on a base that is the same color as your natural gums. Dentures may require denture adhesive to hold them in place.
Dental Implant-Supported
Dentures & Partials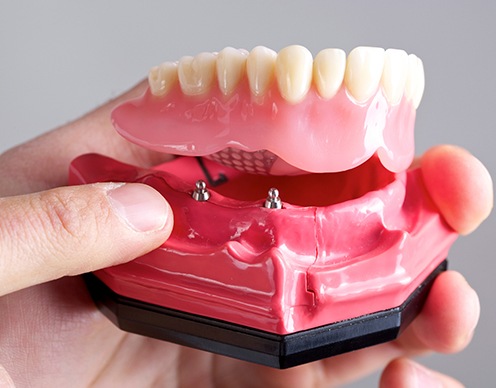 Dental implants are small titanium posts anchored into the jawbone. If you prefer a secure full denture and do not want adhesive, then consider implant-supported dentures. During the course of a brief surgical procedure, Dr. Goldstein can secure a few dental implant posts to hold your dentures in place. With implant-supported dentures, you won't have to worry about slippage; they will snap into place, and your prosthetic will feel safe and sound.