Full & Partial Dentures – Randolph, NJ
Completely Replace
All Your Lost Teeth
A smile just isn't a smile if it's incomplete. Missing teeth cause a host of problems from difficulty in speaking and eating, to low self-confidence, to jawbone deterioration. Don't give up on your smile. Advances in dental materials and technology have made full and partial dentures in Randolph, NJ more lifelike and comfortable than ever.
Why Choose Randolph Dental Care
for Full & Partial Dentures?
Kind Dentist with
Decades of Experience
Implants Placed and
Restored In-House
State-of-the-Art
Technology and Materials
What is a Partial Denture?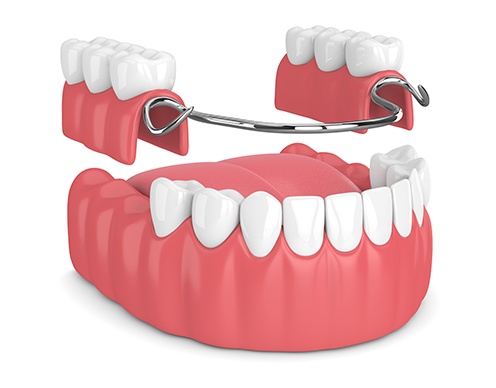 A partial denture, commonly referred to as simply a partial, consists of multiple teeth on a base that are the same color as your natural gums. The teeth are not in a row, but rather spread across the base to fit like a puzzle with your existing teeth. A partial denture is normally secured with clips or brackets, but unlike a bridge, a partial denture is removable. Our most common partial is called a precision partial. Crowns (caps) are placed on key teeth in your mouth, and the partial is made to slip into little slots in the crowns (similar to a lock and key). The beauty of this design is rock solid stability, no twisting of your teeth, and best of all, no visible clasps.
What is a Denture?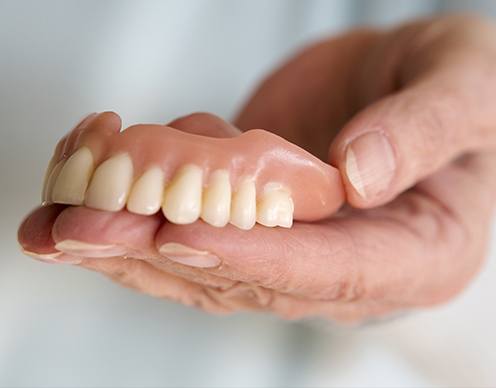 A full denture is a complete top or bottom row of teeth mounted on a base that is the same color as your natural gums. Dentures may require denture adhesive to hold them in place.
Dental Implant-Supported
Dentures & Partials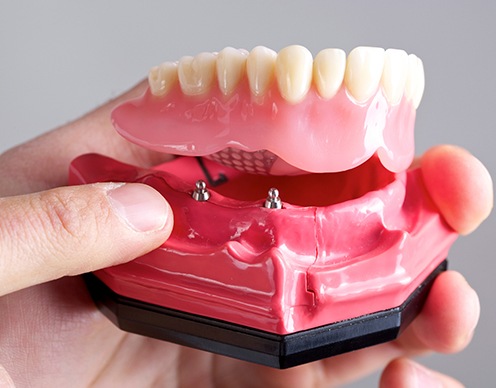 Dental implants are small titanium posts anchored into the jawbone. If you prefer a secure full denture and do not want adhesive, then consider implant-supported dentures. During the course of a brief surgical procedure, Dr. Goldstein can secure a few dental implant posts to hold your dentures in place. With implant-supported dentures, you won't have to worry about slippage; they will snap into place, and your prosthetic will feel safe and sound.
Understanding the Cost of Dentures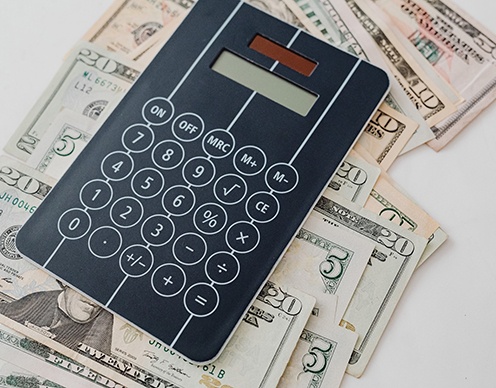 Many people associate dentures with a hefty price tag, but various factors affect the amount you'll pay. Your financial situation should never prevent you from replacing your lost teeth. Although there isn't a flat fee for a new set of teeth, we strive to keep the cost of dentures in Randolph affordable for everyone. Our office has the solutions you need to invest in a complete, beautiful smile without spending your life's savings.
Factors That Affect the Cost of Dentures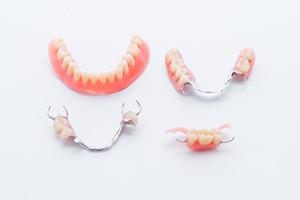 Every mouth is unique, just like your fingerprints. A one-size-fits-all denture would be uncomfortable and look unusual, which is why they are custom made to fit your mouth like a glove. As a result, several things will influence the amount you'll pay for dentures, including:
Preliminary Treatments: It's not uncommon to require a little prep work, like tooth extractions or gum disease therapy.
Number of Arches: It will cost more to treat both arches.
Type of Denture: You have many types and styles to choose from, including traditional methods and implant-supported options.
Materials: High-quality materials may cost more, but they are more durable, comfortable, and aesthetically pleasing.
Your denture dentist in Randolph will create a personalized plan to rebuild your smile and explain the costs, so you will know exactly what you'll have to pay before committing to anything.
Are Implant Dentures More Expensive?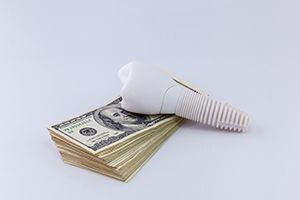 Implant dentures may cost more upfront, but they are the most affordable long-term because they can last for decades. Besides saving money on replacements, dental implants are the only method of replicating the roots of your teeth to keep your jawbone strong and healthy. You'll prevent many issues caused by tooth loss to avoid costly procedures down the road. Not to mention, you'll benefit from the next best thing to your real teeth, which are priceless to your quality of life and self-esteem.
Does Dental Insurance Cover Dentures?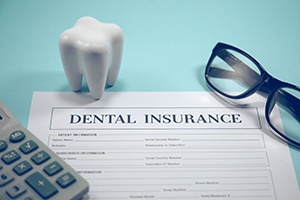 Many dental insurances offer coverage for dentures in Randolph. It's unlikely your policy will cover the entire cost, but you can use your benefits to decrease the amount you'll pay for certain steps in your treatment, like the consultation or preparatory procedures. Dentures are considered a major service, which is often covered 50% to 80% after meeting your annual deductible. We will help you maximize your dental insurance to lower your out-of-pocket expenses.
Other Options for Making Dentures Affordable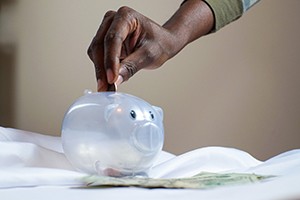 Besides using your dental insurance, we offer multiple options to pay for your new smile, including:
Traditional Payments: Our office accepts all traditional payments, like cash, checks, and credit cards.
Monthly Financing: Pay for your dentures using monthly installments with little or no interest financing.
Special Promotions: Ask us about any ongoing promotions to lower the amount you'll pay.
A member of our team will review all your options to find the solutions you need to keep dentures within your budget. If you have questions about the cost of dentures, or you're ready to schedule your consultation, contact our office today.
Denture FAQs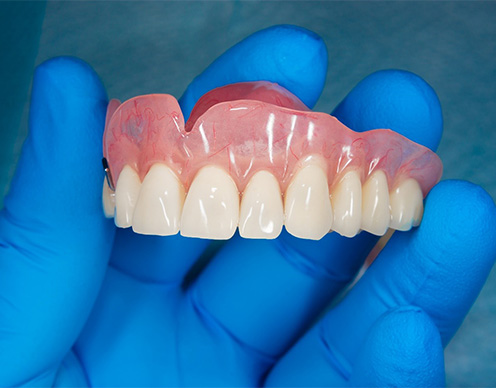 IReading through the information above will give you insight into the types of dentures in Randolph, as well as who is a candidate for dentures and their benefits. With that being said, it's completely natural to still have a few questions on your mind. Since many of our patients prefer to do their research online, we've responded to a few of their most frequently asked questions below. As always, we're just a phone call away if you'd prefer to speak directly with our team!
What Qualifies You for Dentures?
Whether you are missing a few teeth or an entire arch, you may be a candidate for dentures. During your initial consultation, your denture dentist in Randolph will take the time to conduct an oral exam, ask you a few questions, and learn all about your smile goals. From there, he can determine your viability. The good news is most patients who are diligent about their oral health are rock-solid candidates! Even if an untreated condition like gum disease initially stands in your way, the appropriate restorative care can be worked into your treatment plan.
Is It Hard to Talk with Dentures?
As your mouth adjusts to your new dentures, you may experience a bit of a learning curve. During this time, it's important to be patient with yourself and take it slow. Try reading a magazine aloud and repeating the more difficult words (like "sixty") until you're able to say them without a lisp. You should also try biting down and swallowing before you speak which will prevent slippage and excess saliva from messing up your speech. Remember: the more you practice, the faster the adjustment process will be.
What Can't You Eat with Dentures?
Whether you've been struggling with tooth loss for years or a couple of months now, you know the detrimental impact it can have on your smile. Fortunately, dentures can help restore your bite force, allowing you to enjoy your meals pain-free again! Still, it is a good idea to avoid foods that can tug on them like peanut butter and gummy candies. Nuts, raw carrots, and other hard items pose a risk of damaging your restoration as well which is why you should always exercise caution.
How Can I Reduce the Cost of Dentures?
If you have dental insurance, then you'll be happy to know many plans cover at least a portion of the cost. Since we accept most providers here at the office of Dr. Goldstein, let us help you maximize your benefits and minimize your out-of-pocket cost! We also happily accept third-party financing which can break up the cost into manageable payments that fit into your monthly budget. Another option to consider is our membership club which offers 15 percent off treatments among many other benefits. Don't worry – our team will review all the various financial options with you in-depth at your consultation. That way, you can make an informed decision on which path is right for you.