Trios® Digital Impressions – Randolph, NJ
Tired of Yucky Impressions?
We Can Help
In the past, when you needed a dental crown, traditional impressions were used to create the specifics for the restoration. Although they are effective, they do pose various disadvantages. Not only are they uncomfortable and messy but for those with a gag reflex impossible. Now, you can benefit from an alternative to traditional impressions with the Trios Intraoral Scanner. As your dentist in Randolph, Drs. Glen and Zachary Goldstein offer the best dental technology available to enhance your comfort and care with digital impressions.
Benefit from Digital Impressions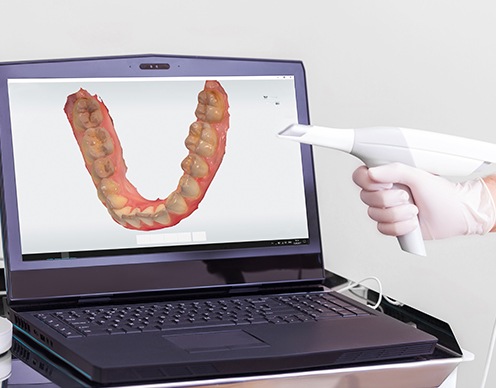 Dental impressions have always set the foundation for restorative treatments. Using a special material, impressions are used to fabricate dental crowns, dentures, partial dentures and used to take records for orthodontic procedures. However, the accuracy of this method is sometimes compromised, leading to ill-fitting prosthetics. In addition, the process to take an impression involves the use of an ill-tasting material. This not only causes discomfort but can be difficult for people who have strong gag reflexes.
Now, all the disadvantages of traditional impressions are resolved with the Trios Scanner. The scanner takes digital impressions, so there is no longer a need for the uncomfortable messy material. When the scanner is used, highly detailed images are produced. This allows Drs. Glen and Zachary Goldstein to create restorations with higher accuracy and precision.
Quality Dental Restorations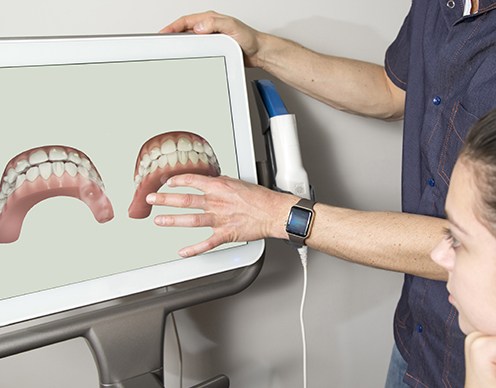 Overall, the scanning process is much easier and more comfortable, even for those with strong gag reflexes. There are no impression materials needed, so there is never a mess. You benefit from a faster impression process to reduce the treatment time.
Our Comfortable
Trios® Scanner