June 30, 2014
Dr Goldstein has been a provider for Donated Dental of NJ since 1994. Donated Dental is a program that provides free dental care to the underserved in NJ. People who otherwise have no access to care. Dr. Goldstein feels it is very important to give back to those in need. Dr. Goldstein also works with RAM-Remote Area Medical helping the underserved in rural America. Margaret has been suffering with ill fitting dentures for a long time. Last week she received a beautiful set of Dentures than has transformed her life! Dr. Goldstein serves patients from Randolph, Morristown, Denville, Rockaway, Chester, Mendham and surrounding areas.
May 28, 2014
Baking Soda (sodium bicarbonate) has long been suggested for tooth brushing and as a tooth whitener.  Baking soda dates back to ancient Egypt. The ability of baking soda to neutralize acids makes it an inexpensive remedy for full body issues as well as the prevention of dental disease. Ten patients ranging in age from 20-60 years old participated in the study involving tooth brushing with baking soda. At baseline they were screened for hypertension, salivary flow, salivary PH, gingival tissue appearance and bleeding.
They were instructed to brush daily with baking soda instead of tooth paste. They were to put a half a teaspoon of baking soda into their hand, wet the tooth brush with water and brush their teeth with it. They were also asked to add a teaspoon of baking soda to a glass of water to make a mouth rinse. After rinsing, they were to instructed to spit out the rinse and not rinse. They were given PH strips and asked to record the PH of their saliva upon waking each morning and record the results.
Patients returned 1-2 weeks later. The group showed reduced PH scores over the test period and also reduced bleeding and signs of gingivitis. Patients reported their mouths felt cleaner.
Dr. Goldstein helps patients with their oral care by providing basic cleanings, treatment for periodontal disease and home care instruction. Dr. Goldstein serves patients from Randolph, Mendham, Chester, Rockaway, Morristown and surrounding areas.
Comments Off

on Baking Soda Helps Dental DiseaseElevates PH and Reduces Inflamation
January 25, 2014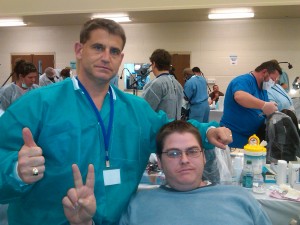 For the fourth consecutive year, Glen M. Goldstein DMD DICOI will be volunteering his dental care and services on the upcoming Remote Area Medical® (RAM) mission trip in Knoxville, TN. Based in Knoxville, RAM® is a nonprofit organization devoted to helping patients in remote areas of the United States receive health care they can't afford, or to which they otherwise do not have access.
Dr. Goldstein, his 2 sons and several of his dental colleagues will be making the trip to Knoxville on Friday, January 31st and staying until the evening of Sunday, February 2nd. During this time, they will be providing medical care for about 12 hours on Saturday and most of the day on Sunday. Dr. Goldstein will be performing basic dental care services that include:
Dental Screenings
Tooth Extractions
Teeth Cleanings
As a returning volunteer, Dr. Goldstein says he looks forward to once again giving back to the community by helping those in need feel confident in their smiles, as well as connecting and reconnecting with his dental peers.
For more information about RAM®, click here: www.ramusa.org.
Contact Randolph Dental Care
To learn more about Dr. Goldstein's mission work, or to schedule a dental appointment at our office, please contact Randolph Dental Care today.
Comments Off

on Dr. Goldstein of Randolph Dental Care gives back