June 12, 2012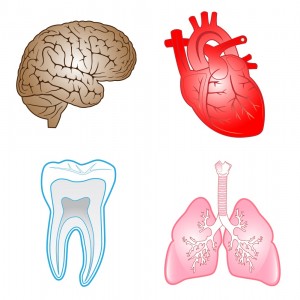 If you've always assumed there's no connection between your smile and your general well being, you might be surprised at what recent studies from The New England Journal of Medicine and The Journal of the American College of Cardiology have reported. In both cases, it was found that inflammation in the mouth contributed to coronary artery disease and other heart conditions, drawing a direct link between oral health and heart health.
But it's not the heart that can be affected by poor oral health. Inflammation in the mouth has also been shown to have a connection with health conditions like rheumatoid arthritis, diabetes complications, stroke, Alzheimer's disease, pneumonia, pre-term birth and more.
So what does all this mean for you?
It means that looking after your smile is more important than you might have realized. You already knew, of course, that it was important to watch out for gum disease and tooth decay, but this new information makes regular visits and brushing and flossing even more important.
How Long Has It Been Since Your Last Regular Exam and Cleaning?
Because a healthy smile is so important to your overall health, we recommend that you see Dr. Goldstein and his Randolph team twice a year—or about every six months—for a regular oral exam and cleaning. Through regular visits like these at our Randolph dental office, we can help you keep a close eye on your oral health, helping it stay healthy and strong for years to come
Our Randolph office serves patients from Rockaway, Mendham, Chester, Morristown, Denville, Morris County, and surrounding areas. We look forward to hearing from you.
No Comments »
No comments yet.
RSS feed for comments on this post.
Leave a comment