September 19, 2012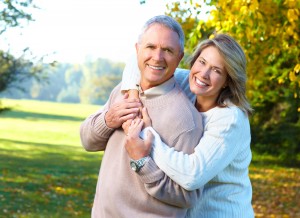 As more time passes, dental implants have become the restorative option of choice for patients who want to stabilize poorly-fitting dentures or replace one or more missing teeth.  When you combine how durable and easy dental implants are to care for with how natural they look and feel it's no wonder they're gaining in popularity with doctors and patients alike. Dental implants are as close to mother nature as we can get.
At Dr. Goldstein's Randolph dental office, our talented team will complete your entire dental implant procedure in one location using state-of-the-art tools and techniques. That means you can have both the placement and the restoration phase of your procedure done under the guidance of Dr. Goldstein, without ever have to visit another doctor. Dr. Goldstein has studied extensively in both the placement and restoration of dental implants. He is a diplomate in the International Congress of Oral Implantologists.
Improve Your Smile with Dental Implants
But beyond that, our Randolph patients can enjoy other great benefits with dental implants. Some of the most impressive include:
Improved chewing and speaking ability
No need for denture adhesive
Improved confidence
No dietary restrictions
Prevention of bone loss
A success rate as high as 90-95%
If you've dreamed of restoring your smile, Dr. Goldstein and our team at Randolph Dental Care can help. Call our Randolph office today to reserve your consultation appointment. Dr. Goldstein serves patients from Rockaway, Mendham, Chester, Morristown, Denville, Morris County, and beyond.
No Comments »
No comments yet.
RSS feed for comments on this post.
Leave a comment