February 2, 2023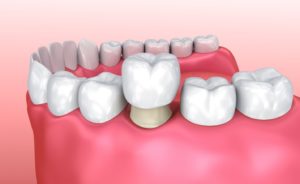 Dental crowns are among the most popular solutions used in both restorative and cosmetic dentistry; they're capable of easily assisting decayed, damaged, or otherwise compromised teeth. However, as durable as they are, they can still experience wear and tear and will eventually need to be replaced. Your dentist will be able to assist you with this, but it's helpful to know when your crown is showing signs of deterioration. Here are four signs to keep an eye out for so that you can ensure that your crown is replaced right when it needs to be.
Obvious Signs of Wear and Tear
Over time, you might notice that your crown appears somewhat worn down or obviously damaged. Needless to say, this can compromise its appearance and make it stick out like a sore thumb, inhibiting your smile's beauty! While this wear might be the result of the crown's age, it could also be a sign of something more serious such as bruxism (teeth grinding) or chronically poor oral hygiene. Your dentist will be able to determine the extent of the damage and whether it necessitates replacement.
Pain or Swelling Around Your Crown
As soon as you notice pain or inflammation surrounding a crowned tooth, you should contact your dentist. Broken or cracked crowns might expose the underlying tooth which can cause tenderness. It's also possible that the crown was placed too high on the tooth, which can cause pain or sensitivity when chewing.
Gum Line Recession
Bacteria are actually more likely to gather around a tooth with a crown than to colonize a natural tooth, meaning that having a dental crown may increase the risk of gum disease. Good oral hygiene is paramount in the prevention of this, further necessitating the need for brushing and flossing consistently, as well as using an antibacterial mouthwash. If it seems like your gums are receding around your crown, it's likely a signal that it needs to be refitted or replaced.
The Crown Is Old
If you've had your crown for at least 10 years, you should talk to your dentist about having it replaced. Even if there aren't any obvious signs of damage, its advanced age can become problematic. Although crowns can sometimes last for 15 years or beyond with excellent care, it's still wise to have their integrity monitored by your dentist in the event that it needs to be replaced. It's worth noting that some insurance plans might cover the cost of crown replacement, so you shouldn't hesitate to inquire with your provider beforehand.
About the Author
Dr. Glen Goldstein has proudly served patients and families in the Randolph, NJ community for several years. His practice is thrilled to offer a wide range of preventive, cosmetic, and restorative services including CEREC same-day dental crowns. If you have any questions about dental crowns or you think you might need to have yours replaced, feel free to contact Dr. Goldstein through his practice's website or over the phone for assistance: (973) 895-7995.
Comments Off

on Does My Dental Crown Need to Be Replaced?
No Comments
No comments yet.
RSS feed for comments on this post.
Sorry, the comment form is closed at this time.