October 2, 2022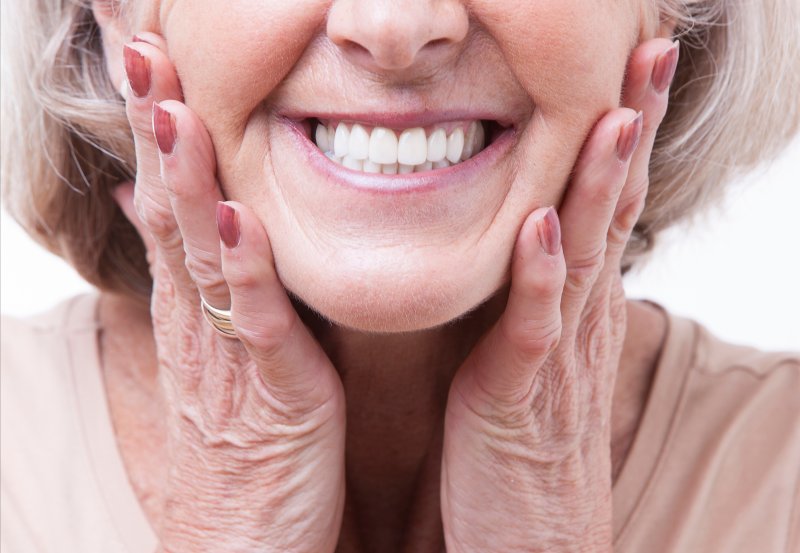 Most people can't remember a time when they didn't know how to take care of their teeth, at least to some extent. Brushing and flossing become second nature to us at a very young age. That's why getting dentures can be so disorienting; for the first time since you were a kid, you're having to learn how to take care of your teeth. You might want to keep them shining the way they used to but doing that can require a little bit of know-how. To help, here's a brief guide on how best to whiten your dentures.
How Do I Whiten My Dentures?
Just like your natural teeth, your dentures can collect stains over time. If they do, whitening them can be as easy as letting them soak overnight. Ask your dentist to recommend a soaking solution and follow the directions on the package. When used properly, these solutions have been clinically shown to break down stains and plaque deposits.
If you'd like, you can also brush your dentures with a non-abrasive toothpaste. This may take a little more work but can produce fantastic results.
What Should I Avoid When Whitening My Dentures?
Unfortunately, there is an abundance of DIY whitening methods online, most of which are likely to damage your prosthetic. Here is a list of some common home remedies you should avoid:
Chlorine solutions, like bleach
Porcelain or glass cleaners
Hard brushes, including stiff-bristled toothbrushes
Lemon juice
Baking soda
Metal polish
How Do I Keep My Dentures Shining?
Day-to-day, your prosthetic shouldn't require too much maintenance. One good practice is to wash them frequently, especially after drinking staining liquids like coffee, red wine, and tea. You should also store your dentures in a soaking solution or a glass of warm water when not in use. Finally, be sure to schedule biannual checkups with your dentist. Not only will this give them an opportunity to check the integrity of your dentures, but you'll also be able to have them professionally cleaned.
Like taking care of your natural teeth, maintaining your dentures isn't that tough once you get used to it. Give them a little bit of TLC, and your smile will be shining brighter than ever.
About Our Practice
Randolph Dental Care is a family business backed by cutting-edge dental technology, meaning we can give you the highest quality care in a place that feels like home. All our implants are placed and restored in-house, so you'll be able to get personalized treatment from us at every step of the process. If you have any questions about maintaining your dentures, we can be reached via our website or by phone at (973) 895-7995.
Comments Off

on How Do I Keep My Dentures White and Bright?
No Comments
No comments yet.
RSS feed for comments on this post.
Sorry, the comment form is closed at this time.