June 8, 2022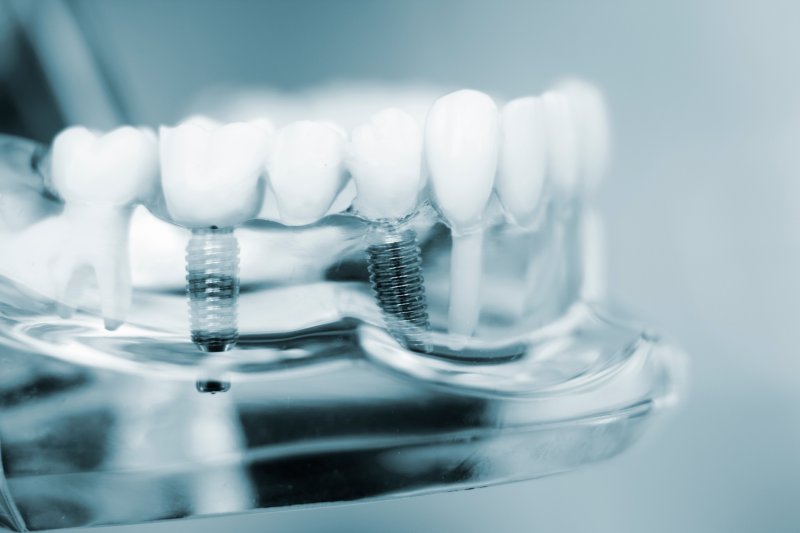 Do you need to replace any missing teeth? If so, then you might be considering getting dental implants. While they provide the ultimate support for your smile, there are still plenty of misconceptions about the treatment. So, what exactly can you expect from the procedure? Keep reading to learn five important facts about dental implants and how you can benefit from them!
Fact #1: They Are Cavity-Proof
Since your restorations will be constructed out of titanium and porcelain, they won't be susceptible to cavities or decay. However, the rest of your mouth and natural teeth can still be at risk of bacteria and infection. For this reason, you'll need to maintain proper dental hygiene and visit your dentist routinely to protect your smile from more serious issues like gum disease.
Fact #2: They Can Successfully Restore Your Biting Power
Not only do dental implants have a 95% success rate, but they'll also return the majority of your biting power! This means you can enjoy your favorite meals without worrying about them accidentally slipping or falling out. You'll also feel confident that your implants will provide the support your mouth needs for many years to come.
Fact #3: They Can Be Relatively Economical
Getting dental implants is a major investment in both your dental and overall health. While the treatment does have a higher initial cost than other options, you can expect the results to last you decades or even a lifetime. This can save you more money in the long run, as you won't need to replace your restorations as often as other treatments like crowns, bridges, or dentures.
Fact #4: They Restore Your Smile & Confidence
Having missing teeth can often feel embarrassing and frustrating, lowering your self-esteem in the process. With dental implants, you can effectively restore your full smile while boosting your confidence. They'll also have superior stability compared to other treatments, as they'll be directly anchored to your jawbone.
Fact #5: You May Need to Consider Your Diet
During your recovery period, you'll need to eat a softer food diet so your implants can successfully bond with the bone. Once the metal posts fuse with the jawbone, you can feel free to eat a wider variety of meals than you can with dentures. However, you'll want to avoid biting down on hard or crunchy foods, chewing ice, or using your teeth as tools, as these can damage your implants. By maintaining a healthy diet, you can also promote healthier bone tissue to preserve your restorations for longer.
So, if you're interested in dental implants, feel free to consult your dentist. They'll be more than happy to discuss your options and create a treatment plan to restore your smile!
About the Author
Dr. Glen M. Goldstein is a proud affiliate of several groups like the American and New Jersey Dental Associations. He studied at the University of Medicine and Dentistry of New Jersey and has been delivering outstanding care for over three decades. He offers a wide selection of modern treatments, including dental implants to help preserve your dental health. If you'd like to schedule a consultation, visit his website or call 973-895-7995.
Comments Off

on 5 Dental Implant Facts You Won't Want to Miss
No Comments
No comments yet.
RSS feed for comments on this post.
Sorry, the comment form is closed at this time.