December 14, 2021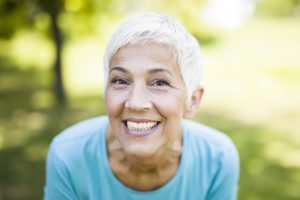 As many as 50 million women in the United States have experienced menopause. While this is a perfectly natural process, it leads to a host of changes throughout the body. In addition to the notorious hot flashes, menopause can also impact your dental health in ways you may not have considered. If you've gone through menopause and want to replace your missing teeth with dental implants, you might encounter difficulties that premenopausal women wouldn't. Read on to learn whether it's possible to get dental implants following menopause.
How Menopause Affects Oral Health
Menopause decreases your levels of estrogen, a hormone that is essential for bone health. As a result, postmenopausal women have a higher risk for osteoporosis – a condition that causes the bones to lose density, making them more fragile and likely to fracture.
Bone loss also impacts the jawbone, which is responsible for holding your teeth in place. When the jawbone weakens, it becomes less able to support your teeth, upping the chances of tooth loss. It may also prevent the jawbone from fusing to dental implants, causing them to fail.
Studies have suggested that postmenopausal women are at an increased risk of dental implant failure than premenopausal women. Of course, this is not a guarantee by any means, but you may need to take certain precautions to boost your chances of successful dental implant placement. Namely, you should avoid tobacco and make sure to maintain excellent dental care habits.
Can Post-Menopausal Women Get Dental Implants?
Following menopause, many women undergo hormone replacement therapy (HRT) to alleviate hot flashes and other unpleasant side effects. HRT can also help to prevent bone loss, which may make dental implants more easily able to integrate with the jawbone and form a potentially lifelong attachment. Some research suggests that HRT can even reduce the risk of gum disease (a common cause of dental implant failure).
Thanks to HRT, it's definitely possible to get dental implants after menopause! With that being said, you'll need to consult your primary care physician as well as your dentist to ensure you're a good candidate for HRT and dental implants. Generally speaking, as long as you work to maintain great oral and overall health, menopause shouldn't keep you from enjoying a complete smile well into your golden years!
About the Authors
At Randolph Dental Care, Dr. Glen Goldstein has been serving the dental needs of the Randolph, NJ community since 1987. His son, Dr. Zachary Goldstein, recently joined the practice, following in his footsteps. Both doctors have completed extensive training in dental implants, with Dr. Glen Goldstein earning Fellowship and Diplomate status in the International Congress of Oral Implantologists. They provide start-to-finish dental implant treatment in one location. To find out whether dental implants can still help you even after menopause, get in touch with their team by calling 973-895-7995.
Comments Off

on Can You Get Dental Implants After Menopause?
No Comments
No comments yet.
RSS feed for comments on this post.
Sorry, the comment form is closed at this time.