June 19, 2021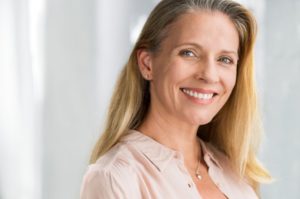 The cost of dental implants varies from practice to practice and from patient to patient. Typically, though, they cost thousands of dollars — perhaps even tens of thousands of dollars for people who require full mouth replacement. At a glance, they can seem extremely expensive! You might be inclined to reject the idea of getting them, especially if you already have dentures that work well for you. But are dental implants worth the cost? In most cases, the answer is a resounding yes. Let's talk about why that is so.
They Last a Lifetime
Dentures are relatively inexpensive upfront. Unfortunately, though, they only last for 5 – 10 years before they need to be replaced. In the meantime, you have to pay to get them relined periodically. Over the decades, the cost of dentures can add up to countless thousands of dollars.
Dental implants, on the other hand, have the potential to last a lifetime — which means you might end up paying less for them on a long-term basis than you would pay for alternative forms of tooth replacement. For most people, the cost-per-day of dental implants over the course of 30 or 40 years is less than a cup of gourmet coffee.
They Preserve the Jawbone
After the natural teeth are removed, the jawbone begins to deteriorate. Over time, it can become so small that it affects facial shape. Sadly, traditional dentures can accelerate the bone loss. Dental implants are different. Because they act as substitute tooth roots, they can "trick" your jawbone, making it feel like your natural teeth are still there, which means that your bone is likely to stay strong and whole.
They Support Overall Health
Dentures limit your ability to eat certain foods, and you have to take precautions to make sure that they do not become destabilized while you chew. For some people, this might mean that they hesitate to eat raw fruits and vegetables, as well as other foods that have proven health benefits. Dental implants are sturdy enough to stand up to virtually anything you might want to eat, enabling you to enjoy the disease-fighting benefits of a balanced diet.
They Can Boost Your Confidence
Physical and mental health are inextricably linked. If tooth loss or an ill-fitting denture adversely affects your view of yourself, you may suffer in many ways. Dental implants are the next best thing to natural teeth. Not only do they provide outstanding function, but they also look incredibly lifelike. In fact, they look so real that onlookers may never notice that they are not the same teeth that you have had since your youth.
So… Are Dental Implants Worth It?
Although dental implants present a significant financial obligation, they offer benefits that far outweigh their cost. Would you like to find out how they might be able to improve your life? A consultation with a local implant dentist can be the first step on your road to a renewed smile.
Meet the Dentists
Dr. Glen Goldstein has been serving patients in Randolph for more than three decades. His experience and training qualify him to provide start to finish dental implant care. Together with his son, Dr. Zachary Goldstein, he aims to provide top-quality service at a reasonable price. To learn more about our practice and how we may be able to serve you, contact us at 973-895-7995.
Comments Off

on Are Dental Implants Worth the Cost?
No Comments
No comments yet.
RSS feed for comments on this post.
Sorry, the comment form is closed at this time.