April 5, 2021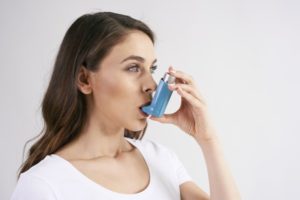 According to some estimates, roughly 235 million people around the world suffer from asthma. If you are among them, you are likely all too familiar with the inconveniences and struggles that come with your condition. Unfortunately, research has revealed yet another problem related to asthma: a heightened risk of gum disease. Let's talk about the reason behind this issue and what you can do to protect your smile.
How Asthma Can Contribute to Gum Disease
Individuals with asthma are more likely to suffer from dry mouth. That is because when you have an asthma attack, it is a natural reaction to breathe through your mouth instead of your nose in order to take in as much oxygen as possible. Mouth breathing can reduce the amount of moisture in your oral cavity. Use of your inhaler may exacerbate the problem by repressing the function of your salivary glands.
A lack of saliva can increase your risk of gum disease because one of saliva's primary functions is to rinse away harmful food particles and bacteria. Without enough of it, bacteria may thrive and can easily infiltrate your gum tissues.
Lower Your Risk by Avoiding Triggers
You can lower the risk that your asthma will lead to gum disease by taking some practical preventive measures, such as avoiding asthma triggers to the extent possible. Some common triggers, such as low temperatures or high humidity, are nearly impossible to avoid. Others, however, are easier to stay away from. For example, you might be able to reduce your exposure to pet dander and dust by adjusting your home cleaning routine. If you smoke, it would be advisable to make plans to quit as soon as possible.
Diligently Care for Your Oral Health
Asthma patients — and people in general — can reduce their risk of gum disease by diligently caring for their oral health. Here are some practical steps you can take:
Fight dry mouth. Staying hydrated, sucking on sugarless candy, and chewing gum can all promote saliva production.
Maintain a strict oral hygiene routine. You should brush your teeth at least two times a day and floss once a day. Be sure you always clean the area along your gumline.
Visit your dentist regularly. At your routine checkups, your dentist will look for any early signs of gum disease. If they notice any cause for concern, they will design a treatment plan. They can also provide you with personalized tips for keeping your mouth moist.
Know the symptoms of gum disease. The initial indications of gum disease are subtle. If you experience swollen gums, bleeding gums, or persistent bad breath, schedule a checkup with your dentist.
Asthma can endanger your oral health, but you don't have to let it. Taking a few precautions may help you breathe better and lower your risk of developing gum disease.
Meet the Dentist
Dr. Glen Goldstein and his son, Dr. Zachary Goldstein, are proud to provide state-of-the-art general dentistry services to residents of Randolph and the surrounding communities. They have many years of combined experience. If you are concerned about how asthma may be affecting your oral health, they would be pleased to talk with you. Contact our office at 973-895-7995.
Comments Off

on Asthma and Your Oral Health: What You Should Know
No Comments
No comments yet.
RSS feed for comments on this post.
Sorry, the comment form is closed at this time.