March 13, 2021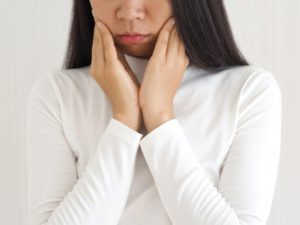 When you suffer joint and muscle pain, your first instinct might be to schedule an appointment with your general care practitioner. That's usually a good idea, but if your joint pain is primarily affecting your temporomandibular joint (TMJ), the joint that connects your lower jaw to the rest of your skull, you might be better off visiting a dentist instead. Let's talk about why dentists are uniquely qualified to offer TMJ therapy.
Dentists Are Trained to Recognize TMD
Temporomandibular joint dysfunction (TMD) is a term that can apply to a range of problems that affect how the TMJ operates. On the surface, TMD might seem fairly simple. However, that is far from the case. It can cause dozens of different symptoms, some of which are easy to misdiagnose. For example, if you are experiencing headaches, your general physician might not even think to consider TMD as a contributing factor to your pain.
Dentists, on the other hand, often choose to undergo extensive training in how to recognize TMD. They can do detective work and use advanced technology to diagnose your problem in order to let you know if symptoms like headaches, neckaches, and shoulder aches are related to misalignment in your jaw joint.
Dentists Offer a Range of Treatments
There is not a lot that a general physician can do to address TMD. However, a dentist may offer a range of treatments. Depending on the cause of your TMJ problems, they might recommend:
Bite adjustments. Slightly altering the shape of your teeth might take pressure off of your TMJ and improve its function.
A nightguard. A custom oral appliance that you wear at night might prevent teeth grinding, a common contributor to TMD.
Other treatments. For some patients, at-home remedies can provide a measure of pain relief. Others require orthodontic treatment or even surgery. Dentists often partner with other local medical professionals to provide comprehensive TMJ services.
Dentists Can Treat TMD-Related Oral Health Problems
TMD is often associated with numerous dental problems, such as tooth sensitivity, gum recession, and premature wear and tear on the teeth. When your dentist is helping you to find relief from the muscle and joint pain that is associated with TMD, they can also create a treatment plan to get your oral health back on track. Their goal is to help you make a complete and long-lasting recovery.
Is It Time to See a Dentist?
For many patients, some symptoms of TMD go away on their own after a while. However, there is usually still an underlying problem that requires professional care. If you believe you are suffering from TMD, delaying treatment may allow the problem to get worse. It is in your best interests to visit a dentist for TMJ therapy as soon as you can. Relief may be easier than you think!
Meet the Practice
Dr. Glen Goldstein has been serving as a dentist in Randolph for more than 30 years. He has completed extensive training in diagnosing and treating TMD. Along with his son and fellow dentist, Dr. Zachary Goldstein, he offers multiple treatments that are designed to promote TMJ health. To learn more about how our practice can serve you, contact us at 973-895-7995.
Comments Off

on 3 Reasons to Choose a Dentist for TMJ Treatment
No Comments
No comments yet.
RSS feed for comments on this post.
Sorry, the comment form is closed at this time.