December 22, 2020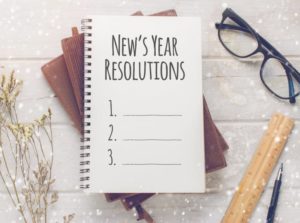 At the start of a new year, it's common to hear phrases like, "new year, new you," that encourage you to make a change for yourself for the better. Many people decide to exercise more, save more financially, or be more mindful of their diets, but have you considered adding having a healthier smile to your list of New Year's resolutions? Here are a few ways you can start the new year off with a plan to take better care of your smile.
New Year, New Smile
With the new year comes the opportunity to have the smile you've always wanted, and here's how you can do it:
Develop a Regular Oral Hygiene Routine
While most people would probably say that they try to brush their teeth as least once a day, most rarely floss. According to studies, 28% of the population only flosses with they feel something lodged in between their teeth or just not at all. Whatever your normal routine is, picking up a new good habit is never a bad idea! Flossing is the best way to remove leftover particles of food that your toothbrush can't reach, which can protect from plaque build-up that could potentially turn into gum disease.
Add More Fruits and Veggies to Your Diet
Like many others, you may have grown up hearing how important it is to eat your fruits and veggies. Over the years, you may have fallen out of the habit of doing so on a regular basis, but the multitudes of vitamins and nutrients found in fruits and vegetables are essential for oral health. There has never been a better time to revamp your diet and keep your teeth and gums healthy for years to come.
Limit Your Sugar Intake
Cutting back on sweets is a very popular resolution, and most often to slim down the waistline. But as you may have guessed, limiting your sugar intake is also a great choice to make for your teeth. The less sugar you eat, the less risk your teeth have of developing cavities. It's also important to be aware that candy and sweet treats are not the only culprits. Soft drinks and many types of alcohol also contain high levels of sucrose, so be mindful of your intake and make sure to rinse your mouth out with water after consumption.
Visit Your Dentist for Regular Checkups
This is one of the easiest and most practical things you can do to promote oral health. Each time to see your dentist, they conduct an oral cancer screening, as well as take an x-ray. Seeing them regularly can help catch potential issues and allow for early treatment before they become serious.
The first time you meet someone, one of the first things they're drawn to is your smile. Why not make this your year to show it a little more love?
About the Practice
Dr. Glen Goldstein and Dr. Zachary Goldstein are the father and son duo that leads the team of experts at Randolph Dental Care. They understand and value the importance of oral health, which is why they make it a priority to ensure that each of their patients has the knowledge they need to maintain healthy smiles. With combined years of experience and continuing education, they are able to provide the highest quality of care. Are you ready to schedule your next dental checkup? Request an appointment online or call (973) 895-7995.
Comments Off

on Add a Healthier Smile to Your List of New Year's Resolutions
No Comments
No comments yet.
RSS feed for comments on this post.
Sorry, the comment form is closed at this time.