November 3, 2020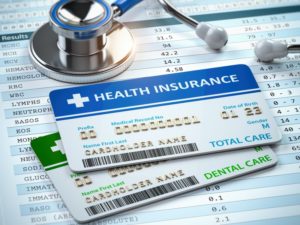 After starting a new job a few months ago, you were finally able to register for their insurance benefits program. You were so excited to start saving money on healthcare that you almost didn't notice something a little unusual: your dental insurance is completely separate from your general medical insurance. Why is that? Since your mouth is a part of your body, then shouldn't it be covered under medical insurance? Continue reading to find out why dental insurance differs, and how you can make the most of your benefits.
Medical vs. Dental Insurance
Creating a whole separate insurance plan just for treating the teeth and gums might seem arbitrary at first, but there's a good reason for it. In general, dental insurance is proactive, while medical insurance is reactive. Medical insurance is designed to be used after a health problem has developed, and dental insurance focuses mainly on preventing these issues in the first place.
The reason for this has to do with the anatomy of your teeth. The outer layer of your teeth, called enamel, is the strongest substance in the human body, but it's technically inorganic. Essentially, this means that once enamel has been damaged or lost, it cannot grow back. Because of this, it's easier, smarter, and more cost-effective to avoid oral health issues than it is to treat them. That's why your dental insurance primarily covers the cost of preventive care, like checkups and cleanings.
Benefits of Maximizing Your Dental Insurance Benefits
Gum disease, oral cancer, cavities, and other oral health problems often don't come with noticeable symptoms until they've some serious damage. By that point, you might require invasive treatment that is less likely to be covered by insurance. If you get two checkups a year, though, your dentist can detect these issues early enough that treatment is still simple and inexpensive. In addition to netting you long-term savings, routine dental visits can:
Prevent dental emergencies. Small fractures or cavities can cause excruciating pain out of nowhere, but regular checkups can treat these issues before they reach that point.
Protect your overall health. An unhealthy mouth can contribute to health issues in the rest of the body. Fortunately, your dentist can help keep your mouth in great condition.
Detect other health problems. More than 90% of general medical conditions display oral symptoms. Your dentist can play an integral role in the early diagnosis and possible prevention of HIV, diabetes, heart disease, and more.
Now that you know the difference between medical and dental insurance, why don't you go ahead and book your next checkup and cleaning? In all likelihood, it will be completely covered, and it can save you so much money later on!
About the Author
Dr. Glen Goldstein is a dentist in Randolph, NJ who earned his Doctor of Dental Medicine degree in 1987 from the University of Medicine and Dentistry of New Jersey. He has since become a Fellow and Diplomate of the International Congress of Oral Implantologists. His practice, Randolph Dental Care, is a premier provider for Delta Dental, but will gladly accept and maximize benefits for most dental insurance plans. To learn how much you can save by scheduling a checkup with Dr. Goldstein, visit his website or give him a call at 973-895-7995.
Comments Off

on Why Dental Insurance Is Different from Medical Insurance
No Comments
No comments yet.
RSS feed for comments on this post.
Sorry, the comment form is closed at this time.