August 20, 2020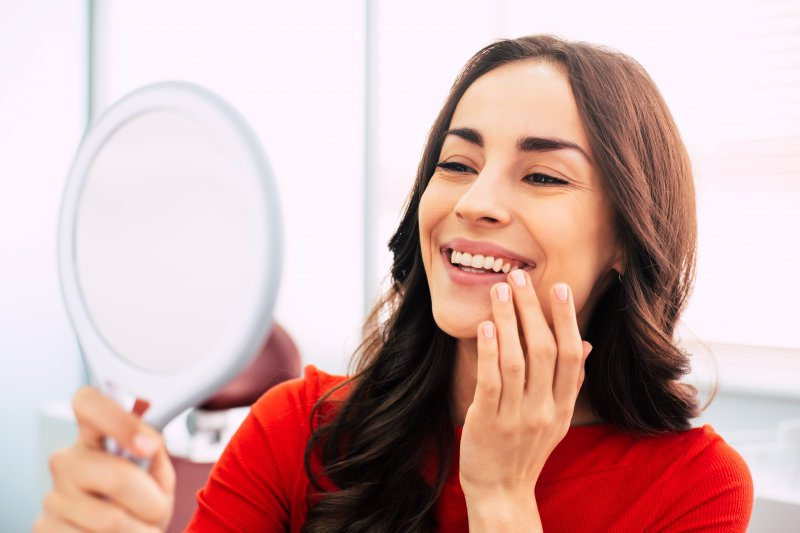 Did you know that 48% of people have untagged themselves from a picture on Facebook because they were unhappy with their teeth? If this sounds all too familiar, then you are not alone. In fact, a recent study found that a whopping 33% of Americans are unhappy with their smile! Fortunately, innovations in technology and dentistry allow patients with discolored, cracked, or otherwise imperfect teeth to opt for cosmetic treatment options, like dental bonding and veneers. If you are looking to upgrade your smile, but are unsure which is right for you, read on for the difference between veneers and bonding.
What Is Dental Bonding?
Dental bonding is a popular restorative procedure where a tooth-colored resin is applied to the surface of your teeth. From there, a special light is used to harden the material and bond it to the tooth. In addition to being a minimally invasive option, patients love dental bonding because it can correct a variety of cosmetic concerns and it can last 10+ years!
What Are Porcelain Veneers?
Porcelain veneers are thin restorations that are bonded to the front surface of your teeth to correct discoloration, cracks, and other cosmetic imperfections. Not only are they completely customized to seamlessly match the size, shape, and color of your teeth, but they are also stain and cavity-resistant!
4 Important Factors to Consider
Although dental bonding and porcelain veneers are both used to treat cosmetic concerns, there are distinct differences between the two that are important to note. At your initial consultation, your dentist will discuss:
Treatment concerns – Depending on the severity of the aesthetic issues you want to address, your dentist may recommend one over the other. Typically, veneers are a better option for more prominent issues.
Tooth preparation – To ensure that the veneers seamlessly blend with the rest of your smile, a small amount of enamel is removed from your teeth. Conversely, dental bonding does not require any tooth preparation, which is one of the reasons it can be completed in as little as one visit!
Material – While a tooth-colored resin is used in dental bonding, a ceramic substance is used to make porcelain veneers. This durable material is what makes veneers stain-resistant, cavity-impervious, and long-lasting.
Cost – For patients on a budget, dental bonding is often the less expensive alternative. However, it is important to keep in mind the long-term price as well. Although porcelain veneers may cost more on the front-end, they don't require additional cosmetic treatments down the line to keep your teeth looking bright.
If imperfections in your smile are negatively impacting your self-confidence, then there is no time like the present to talk to your dentist. By scheduling your initial consultation, you'll be well on your way to achieving a jaw-dropping smile that turns heads for all the right reasons!
About the Author
Since earning his Doctor of Medical Dentistry degree from the University of Medicine and Dentistry of New Jersey, Dr. Glen Goldstein has continued to stay up to date on the latest technology and dentistry has to offer with advanced training and continuing education courses. In fact, he is a graduate of the Dawson Center for Advanced Dental Studies and is a member of multiple reputable organizations, including the American Dental Association. If you would like to speak with him about upgrading your smile with dental bonding or veneers, visit his website or give him a call at 973-895-7995.
Comments Off

on Dental Bonding vs. Porcelain Veneers: Which Is Better For You?
No Comments
No comments yet.
RSS feed for comments on this post.
Sorry, the comment form is closed at this time.