May 18, 2020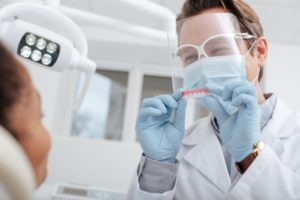 From getting groceries to connecting with family, the COVID-19 pandemic has changed many aspects of our lives. Even your next dental appointment will look different than any you've had before! To provide the dental care you need while keeping you safe from the coronavirus, a wide variety of new dental safety and infection control protocols have been put in place. Here's what you can expect before, during, and after your next visit with your Randolph, NJ emergency dentist.
Making Your Appointment
You'll notice some of the new safety precautions as soon as you call to make your appointment. Your Randolph dentist is seeing fewer patients than they did before the pandemic. While this means you'll be offered fewer options when making your appointment, it also allows more time for coming, going, and cleaning between patients. If you have other family members who need dental care as well, your dentist can help reduce your trips outside by offering family-friendly scheduling. Up to six family members can come in at the same time for a safe, private dental experience.
Before Your Appointment
When you arrive to the office, you can check in from your car. This limits your exposure to other patients and allows you to go directly to your treatment room when it's ready. As you pass the reception area, you'll notice several more changes, like:
Fewer chairs and more helpful signs to encourage social distancing.
New HEPA filters to keep the air as clean as possible.
Installed clear barriers to block the movement of airborne particles.
During Your Appointment
As your treatment begins, you'll see that your dental team looks a little different than the last time you saw them. While you're probably familiar with the masks and gloves they'll be wearing, you may not have seen other items like face shields or protective disposable coats. Before administering care, your dentist will ask you to disinfect your hands with a hospital-grade hand sanitizer. You'll also rinse with an antimicrobial mouthwash that reduces the bacteria in your mouth as an added layer of precaution.
After Your Appointment
Previously, you may have had your dental work completed over several visits. To help you stay at home as much as possible, your dentist will be conducting expanded patient appointments in order to get more done in one visit. Remember, if you begin to develop a fever, dry cough, shortness of breath, or any other COVID-19 symptoms within 14 days of your appointment, you need to notify your dentist right away.
Even though your next appointment may look a little different than previous ones, you can still expect to receive the friendly, thorough, and high-quality dentistry you've always enjoyed. Your Randolph, NJ dentist and his team are taking every precaution to keep both you and your smile as healthy as possible during the COVID-19 pandemic.
About the Author
Since 1989, Dr. Glen Goldstein has been helping the smiles of Randolph, NJ achieve and maintain optimal oral health. He has been closely monitoring the COVID-19 pandemic as well as the recommendations set forth by the Centers for Disease Control and Prevention. He has adjusted his infection control and dental safety protocols accordingly and implemented 21 additional precautions. If you'd like to learn more about his Commitment to Safety, feel free to contact him via his website or at (973) 895-7995.
Comments Off

on What to Expect at Your Next Dental Visit After COVID-19
No Comments
No comments yet.
RSS feed for comments on this post.
Sorry, the comment form is closed at this time.