February 20, 2020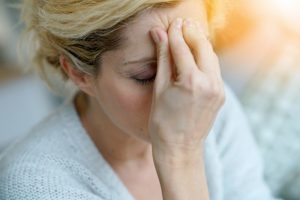 You may be quite familiar with the throbbing pain and nausea that comes with a migraine. Over 38 million adults suffer from such headaches, which last for up to 3 days at a time. To find relief, you've probably already tried many different treatments, but there are some solutions that are easy to overlook. Believe it or not, many people have used BOTOX in Randolph to stop their migraines; keep reading to learn more about the procedure and how it could help you wake up free of pain!
What is BOTOX?
BOTOX is derived from botulinum toxin, which is produced by a certain kind of bacterium. The toxin can be injected into the face in small, safe doses in order to block signals from the nerves and temporarily paralyze certain muscles. This stops the (normally unconscious) facial movements that cause wrinkles around the mouth, cheeks, and the corners of the eyes. Because of this, BOTOX is often offered as a cosmetic treatment meant to reduce your visible age.
How Can BOTOX Treat Migraines?
A dentist can use BOTOX to improve more than just your appearance. In 2010, the FDA approved the procedure as a migraine treatment after various studies found that people who received it experienced fewer headaches each month. This is thought to be because the BOTOX blocks the pain signals from reaching your brain. If the neurotransmitters can't reach the nerve endings around your head or neck, the discomfort of a headache won't occur.
BOTOX can also be used to stop bruxism (grinding of the teeth at night) and TMJ issues by halting involuntary muscle motions. In turn, this can relieve migraines that occur as a result of such conditions.
What is the BOTOX Procedure for Migraines?
During a BOTOX session for migraines, as many as 30 to 40 injections are made in specific spots, including the temples, the forehead, the neck, the bridge of your nose, and sometimes even your upper back. It can take about 10 to 14 days for the effects to kick in, but once they do, you may see a dramatic decrease of your migraine symptoms. For the best results, it's normally recommended to repeat the procedure every 12 weeks or so.
Side effects of BOTOX are rare, but they can happen; common examples include neck pain and stiffness at the sites where the injections were made. Call your dentist right away if you notice any particularly severe complications.
Is BOTOX Right for You?
BOTOX is simply one of many treatment options for chronic migraines, and you may want to consider it if nothing else you've tried has worked or if you aren't able to use conventional medications. If you think it could be right for you, look for a dentist in Randolph trained in using BOTOX for headaches. It just might be the answer you need to overcome your constant discomfort so you can get out and enjoy life again!
About the Author
Dr. Glen Goldstein received his Doctor of Medical Dentistry degree in 1987 from the University of Medicine and Dentistry of New Jersey. He has been upgrading his skills since that time through a continuing education, learning how he could use dentistry to help his patients in ways besides simply treating their teeth. His office, Randolph Dental Care, offers many specialty services, including BOTOX for making cosmetic improvements and treating headaches. If you're ready to stop losing multiple days to migraines every month, schedule an appointment with Dr. Goldstein by visiting his website or calling (973) 895-7995.
Comments Off

on BOTOX: A Surprising Solution for Migraines
No Comments
No comments yet.
RSS feed for comments on this post.
Sorry, the comment form is closed at this time.