January 8, 2020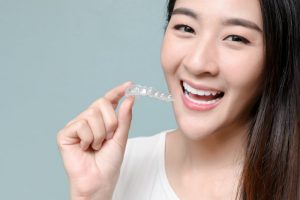 When determining how best to straighten your teeth, you have a lot of options. From traditional metal braces to ClearCorrect to Invisalign in Randolph, living with an unpleasant and unhealthy smile is no longer necessary. However, if the idea of wearing brackets and wires sounds unappealing or you prefer a more durable solution that isn't as susceptible to breakage, read on to find out why Invisalign may prove to be the better option for your individual needs.
Results: What You Can Expect with Invisalign
When choosing to move forward with Invisalign, you are saying you want faster results than another type of orthodontic treatment can provide. Depending on your individual case, you can rest assured that you will have a beautiful smile when everything is finished. Whether you have gapped teeth, overcrowding, or a bite alignment issue, Invisalign will shift your teeth in a way to move everything into the proper place and create a uniform smile.
With Invisalign, you can expect to receive dramatic results as long as you wear your aligners 20-22 hours a day and switch them out after 1-2 weeks of wear. This is much different than traditional braces that cannot be removed. While Invisalign requires not adjusting throughout treatment, metal braces in Randolph require your dentist to forcibly tighten the wire every few weeks.
With clear aligners, you can expect less irritation, greater flexibility, minimal discomfort, and a more enjoyable experience.
Timeline: How Long You'll Need to Wear Your Aligners
Unlike metal braces that can have you wearing them for 2-3 years, Invisalign patients are often finished in 12-24 months depending on the complexity of the issue. But maybe you aren't considering metal braces and are wondering why Invisalign might be better than ClearCorrect, another form of clear braces in Randolph.
While it may be true that ClearCorrect can lead to completed results in less than one year, there are certain disadvantages that can delay treatment such as:
Breakage due to a thinner material being used
Not quite as comfortable as Invisalign due to the Smart Track system used to create Invisalign aligners
Cost: Your Budget for a New Smile
Probably the most important and intriguing factor about choosing Invisalign is how it compares to other forms of orthodontic treatment. While metal braces are often the "cheapest," you'll likely be wearing them longer, so they're not the most cost-effective.
ClearCorrect is known to be less expensive than Invisalign by about $1,000; however, it is dependent upon how many aligners you need. Plus, if you are dealing with a thinner material that can break more easily, your cost may add up over time, whereas, Invisalign's stronger, more durable aligners might last longer.
When considering cost, here is a sample breakdown of what you might expect:
Traditional braces: $2,500-$6,000
ClearCorrect: $2,000-$8,000 for a full alignment treatment
Invisalign: $3,500-$8,000
It's important to remember that each patient is different, so costs, timeline, and results will all vary. When preparing for any type of orthodontic treatment, make sure to talk to your dentist about your options.
About the Author
Dr. Glen Goldstein completed his bachelor's degree from Rutgers University in 1983 before going on to earn his DMD at the University of Medicine and Dentistry of New Jersey in 1987. Providing advanced general and cosmetic dentistry services for the residents of Randolph and its surrounding communities since 1989, Dr. Goldstein has remained committed to the field of dentistry through continuing education. Staying up to date on the latest advancements and technology, he is able to provide his patients with greater care and faster treatment, especially when using Invisalign. This alternative solution to metal braces often sees patients with straighter, healthier smiles in less time. To learn more about the process, contact us at (973) 895-7995.
Comments Off

on Learn Why You Should Choose Invisalign for Orthodontic Treatment
No Comments
No comments yet.
RSS feed for comments on this post.
Sorry, the comment form is closed at this time.