December 28, 2019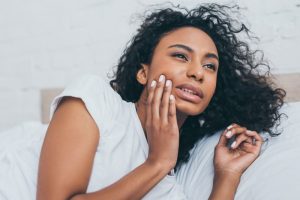 The temporomandibular joint (TMJ) that connects the lower jaw to your skull plays an important role in opening and closing your mouth, but if it has been injured or damaged, it can have a very negative impact on your quality of life. You may suffer from jaw pain in Randolph, or you might develop a migraine; some patients even notice a popping sound in their jaws. No matter how your TMJ disorder manifests, Dr. Goldstein is here to diagnose and treat the condition so that you can go back to living pain free. Here is everything you need to know about TMJ disorders and their possible remedies.
What is a TMJ Disorder, and What are Its Symptoms?
The TMJ contains a disc that rests between a ball and socket; the disc allows you to move the jaw in various directions while cushioning the load so that the rest of the joint's muscles and ligaments are protected. If the disc or the rest of the joint is strained or damaged in some way, the result is a TMJ disorder. Oftentimes, this condition will lead to:
Frequent or constant pain in the jaw
Clicking and popping sounds whenever you move your jaw
Migraines and headaches
Ear pain
Stiff or sore jaw muscles
Lockjaw (where the jaw won't open and close freely)
How Can a TMJ Disorder Be Diagnosed?
Many of the symptoms of a TMJ disorder may also be linked to other health issues, which is why you'll need your dentists help to properly diagnose it. Dr. Goldstein can perform a comprehensive examination to narrow down the exact cause of your TMJ disorder. This means checking the teeth and bite to make sure they come together properly; if they don't, they could be putting undue strain on the joint. Additionally, Dr. Goldstein will check your facial muscles and jaw joint, and he may take a panoramic X-ray, CT scans, or impressions of your mouth. Once we've gathered all of the relevant information, we can narrow down the underlying cause of your problem so that we can treat it.
How Can a TMJ Disorder Be Treated?
There are several different forms of TMJ treatment. Some patients might receive an occlusal splint to hold their jaw in an ideal resting position; others might need to have their teeth adjusted so that they come together properly. We may also suggest ways to take care of your jaw and reduce your pain at home, such as using an ice pack, eating soft foods, or taking over-the-counter pain medications such as ibuprofen.
A TMJ disorder can lead to debilitating problems when left alone, but with Dr. Goldstein's help, you can get your symptoms under control. If you have jaw pain, there's no need to live with it; call Randolph Dental Care for an appointment today!
About the Author
Dr. Glen Goldstein has been serving the Randolph area with advanced dentistry for over 30 years. He is one of the few local dental practitioners who can recognize and treat complicated TMJ disorders; he has also given many extensive lectures related to TMJ treatment. To schedule an appointment, visit his website or call (973) 895-7995.
Comments Off

on Migraines and Jaw Popping? You Might Have a TMJ Disorder
No Comments
No comments yet.
RSS feed for comments on this post.
Sorry, the comment form is closed at this time.