November 21, 2019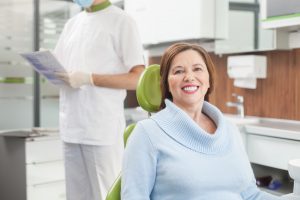 Besides X-rays, impressions provide your dentist with invaluable information to create personalized treatment plans to maintain a healthy, functional smile. Often, they are needed to design restorations, dental prosthetics, or for orthodontic purposes. No matter the reason, many patients cringe at the thought of holding a messy, foul-tasting material in their mouth for several minutes. What if your dentist could get the impressions they needed in a matter of seconds? Now they can with intraoral scanning, but is it as effective as a traditional dental impression in Randolph? Here's what you need to know to make the best choice for your smile.

Traditional Impressions VS Intraoral Scanning
A traditional impression consists of a putty-like material that's placed in special trays and held in the mouth for several minutes. As you bite onto it, you might find it has an unpleasant taste. Not to mention it can be uncomfortable, especially for patients who have a strong gag reflex, damaged teeth, or jaw pain. There's also a certain degree of error, which can add lengthy delays to your treatment.
Intraoral scanning resolves the disadvantages of traditional impressions. A digital scanning wand takes a highly detailed image of your teeth and bite. This creates a 3D model of your mouth, which integrates with elite technology. Your dentist can view the images on a large screen and enlarge them to see every detail. They can also manipulate the images to see virtually every aspect of your mouth.
Benefits of Intraoral Scanning
Intraoral scanning in Randolph offers several benefits that aren't possible with the traditional impression method, including:
Improved Accuracy: Reduces room for error to streamline treatment plans.
Efficient: You'll spend less time in the dental chair because you don't need to wait several minutes for a putty to set.
Enhanced Comfort: There's no need to hold trays or a foul-tasting impression material in your mouth.
Immediate Results: Within a few minutes, you and your dentist can review the images of your mouth to complete your treatment quicker.
TRIOS Intraoral Scanner
There are many intraoral scanners available, but patients and dentists have come to prefer one above all others. The TRIOS intraoral scanner provides quick, accurate 3D models of your mouth using elite technology. It can be used for a variety of dental applications, like crowns, bridges, clear aligners, and dental implant restorations. The digital scanner won't leave a bad taste in your mouth as your dentist creates a customized treatment plan for a healthy, beautiful smile.
About Glen Goldstein
Dr. Glen Goldstein provides modern dental care from his conveniently located office. He combines his qualifications and experience with the latest technological advancements to enhance the quality of his services while also promoting his patients' comfort. Among one of the many elite innovations you'll find in our office is an intraoral scanner. Dr. Goldstein will have the in-depth information he needs to create accurate treatment plans. If you're ready to experience the latest technology in dentistry, contact our office today to schedule an appointment.
Comments Off

on Intraoral Scanner VS Traditional Dental Impressions
No Comments
No comments yet.
RSS feed for comments on this post.
Sorry, the comment form is closed at this time.