October 13, 2019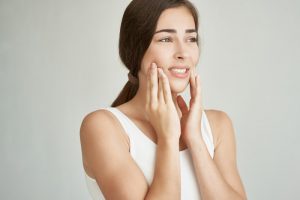 "Occlusion" is a word that refers to how the teeth fit together. Most people do not give much thought to it. After all, there is no need to worry as long as the teeth are functioning, right? Not necessarily. Countless individuals are plagued by occlusal disease, which can lead to devastating long-term consequences if it remains untreated. In this blog post, we'll discuss what occlusal disease is, how you can recognize its signs and symptoms, and how a qualified dentist may treat it.
What Is Occlusal Disease?
Occlusal disease is a general term that applies to a range of pathological conditions that affect a person's bite. It can have any number of different causes, but two of the most common are an unbalanced bite (one side of the mouth bears more pressure during eating) and bruxism (continual, involuntary teeth grinding). Left untreated, occlusal disease causes symptoms that will get worse with time. Eventually, it can lead to severe oral pain, significant tooth wear, and even tooth loss.
Recognizing Occlusal Disease
Signs and symptoms of occlusal disease include:
Pathological (unnatural) wear and tear. The teeth of people with occlusal disease get worn down up to 100 times faster than the teeth of people who are free from this condition.
Fractured teeth and restorations. Bite problems can greatly increase the risk that teeth will fracture. Fillings, crowns, and other restorations are also at an increased risk of breakage.
Dental sensitivity. Excess wear and tear on the teeth damage the enamel. The damaged enamel allows hot and cold substances to irritate the sensitive inner layers of the teeth.
Abfractions and cervical notches. The teeth may develop deep grooves, especially near the gum line.
Headaches and muscle pain. An unbalanced bite can place extra stress on facial, neck, and shoulder muscles.
Treating Occlusal Disease
If you suspect you have occlusal disease, visit a dentist who is trained in occlusion. Choosing the right dentist is important because many dentists do not often consider occlusal disease as a diagnosis even though it is fairly common. A qualified professional will evaluate your bite, take some X-rays, and design a customized treatment plan. Although occlusal disease is often the result of an underlying chronic condition, it is usually possible to stop the damage it causes and relieve symptoms.
Possible treatment options include:
Bite balancing (equilibration) – This involves slightly modifying the teeth to create a more even bite.
Orthodontics – Braces or Invisalign can correct overbite, underbite, and crossbite.
Nightguard – A custom nightguard can help to manage bruxism.
Prosthetics and/or restorations – Crowns or veneers can help to reverse any aesthetic damage that the occlusal disease may have caused.
Occlusal disease is a dangerous problem. If you are concerned about it, seek professional help ASAP. Your smile will thank you!
About the Author
Dr. Glen Goldstein is a dentist with more than 30 years of experience. He has devoted much time to learning the intricacies of occlusal disease; he even educates his fellow dentists about occlusion. If you would like to speak to Dr. Goldstein about your oral health concerns, contact our office at 973-895-7995.
Comments Off

on Are You Suffering from Occlusal Disease?
No Comments
No comments yet.
RSS feed for comments on this post.
Sorry, the comment form is closed at this time.