July 17, 2019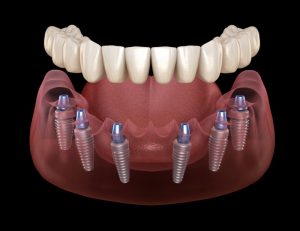 If you have suffered extensive tooth loss and failing teeth, you might be considering dental implants in Randolph, NJ to rebuild your lost smile. You have much to look forward to! Dental implants provide a multitude of advantages. However, not all dental implant procedures are the same. Many patients have been greatly satisfied with an All-on treatment, which uses just a few dental implants to support an entire arch of lost teeth. When the implant restoration is made out of special Prettau Zirconia, the benefits are even greater.
Your All-on Dental Implant Options
The All-on-4 dental implant treatment uses as few as four dental implants to support prosthetic teeth. As their name implies, All-on-5 or All-on-6 treatments use more dental implants. All of the All-on treatments deliver some similar benefits. For example, they are minimally invasive and can help patients avoid the need for a bone graft. Plus, patients usually receive a temporary prosthetic on the same day they receive their dental implants. A permanent implant-supported restoration gets placed after the jawbone has had a chance to recover from the surgery, which may take a few months.
That is where the similarities between the All-on treatments end. All-on 5/6 options tend to produce better long-term results than All-on-4. More implants lead to greater stability and more even force distribution across the mouth. Therefore, they allow patients to experience the most reliable, most natural-feeling results possible. Plus, because dental implants replace tooth roots and help to keep the jawbone strong, a greater number of implants does more to promote long-term bone health.
If you visit Dr. Glen Goldstein for your procedure, you may be able to undergo the revolutionary Teeth Tomorrow treatment, which is a unique type of All-on-5/6 procedure. The remaining teeth get extracted, the implants are placed, and you will receive a temporary set of teeth all on the same day. Later, you can experience the beauty and function of special Prettau Zirconia implant-supported dentures in Randolph, NJ.
Prettau Zirconia vs. Traditional Restoration Materials
A traditional implant-supported denture, such as the type that typically accompanies All-on-4 implants, may be made out of porcelain or acrylic. While these prosthetics can look appealing and provide solid function, Prettau Zirconia is a superior option for most patients.
Prettau Zirconia is a special type of zirconia, which is designed to be more durable than traditional restoration materials. A Prettau implant-supported denture is milled out of a single block of high-grade zirconia, and it is custom-designed to fit in with a patient's unique mouth. The Teeth Tomorrow method uses this type of restoration and is the only tooth replacement solution that is backed by a 99.5 percent success rate, as noted in a 5-year, peer-reviewed study.
Are you ready for a renewed smile? Visit Dr. Goldstein to discover whether All-on-5/6 dental implants are right for you.
About the Author
Dr. Glen Goldstein is a Diplomate of the International Congress of Oral Implantologists. He is the exclusive provider of Prettau Zirconia dental implant restorations in Northwest New Jersey. If you would like to speak to him about All-on dental implant treatments, contact our office today at 973-895-7995.
Comments Off

on Dental implants in Randolf, NJ. All-on-5 or All-on-6 Teeth of Tomorrow
No Comments
No comments yet.
RSS feed for comments on this post.
Sorry, the comment form is closed at this time.