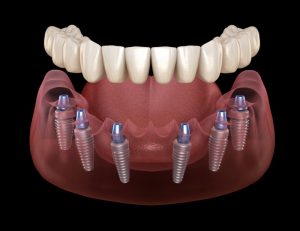 If you have suffered extensive tooth loss, you might be considering dental implants in Randolph, NJ to rebuild your lost smile. You have much to look forward to! Dental implants provide manifold benefits. However, not all dental implant procedures are the same. You could opt for traditional dental implants, or you could choose an All-on method, which uses fewer dental implants and requires a shorter healing period. If you choose an All-on treatment you still have to decide whether you want All-on-4 or All-on-6 dental implants. Let's talk about these two options so you can make an informed decision about which one is right for you.
What Are All-on Dental Implants?
All-on dental implant treatments replace an entire arch of missing teeth with just a few dental implants. The implants are surgically placed in strategically planned positions in the jawbone so they can provide secure support for prosthetic teeth. The precise placement of the implants means that All-on treatments can often eliminate the need for patients to undergo a bone graft.
Patients receive a temporary prosthetic on the same day they receive their dental implants. A permanent implant-supported restoration (denture) gets placed after the jawbone has had a chance to recover from the surgery.
With All-on-4 dental implants, an entire arch of teeth is replaced with just four dental implants. With All-on-6, six dental implants provide support for the new teeth.
Which Is Better?
Some patients opt for All-on-4 rather than All-on-6 because fewer dental implants mean a less invasive placement surgery. It may also cost less than All-on-6. However, the All-on-6 procedure is often the better option because:
Six dental implants more evenly distribute pressure and bite force across the mouth. Thus, All-on-6 can provide superior comfort and chewing power.
Dental implants act as substitutes for the roots of missing teeth. They stimulate the jawbone and help to keep it strong and thick. More dental implants provide more stimulation and thus are better for the jawbone's long-term health.
Your Dental implant Journey
After your implant dentist examines your mouth and talks to you about your goals and expectations, they'll recommend a dental implant procedure that best fits your circumstances.
Regardless of which All-on procedure you choose, you can look forward to a strong and natural-looking smile. If you visit Dr. Glen Goldstein for your procedure, you will receive Prettau Zirconia implant-supported dentures in Randolph, NJ to accompany your dental implants. This special type of zirconia is designed to provide an extremely natural appearance and outstanding durability. In many respects, it is superior to the acrylic or regular zirconia dentures that most dentists attach to dental implants.
Are you ready for a renewed smile? Visit your local dental implant doctor to talk about your options for replacing your missing teeth.
About the Author
Dr. Glen Goldstein is a Diplomate of the International Congress of Oral Implantologists. He is the exclusive provider of Prettau Zirconia dental implant restorations in Northwest New Jersey. If you would like to speak to him about All-on dental implant treatments, contact our office today at 973-895-7995.