May 8, 2019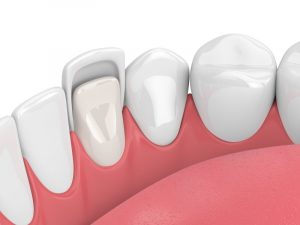 You're tired of feeling embarrassed about your teeth. You want to be confident and outgoing with your smile. Maybe you're worried that it would take multiple expensive procedures to fix your teeth. Well, believe it or not, one treatment option can help you achieve your smile goals—porcelain veneers. This cosmetic dental procedure allows you to change the size, color, shape, and position of your front teeth, giving you a flawlessly smile. In this post, learn about how they can improve your teeth, how much porcelain veneers cost in Randolph, and how you can make treatment more affordable.
What Porcelain Veneers Do
Although made from the same material as dental crowns, these thin shells of ceramic are applied only to the front surfaces of your teeth. As a result, they are excellent at covering up imperfections in your smile, such as the following:
Chipped, broken, or cracked teeth.
Discolored teeth.
Small or misshapen teeth.
Gaps between teeth.
Slightly misaligned teeth.
In addition to being versatile and addressing so many different cosmetic issues, it can correct multiple flaws at the same time, saving you time and money. Instead of doing several procedures to get the smile you want, you can just opt for porcelain veneers, which takes only two appointments rather than many separate visits that other treatments often entail.
Factors That Affect Cost
Each smile is just as unique as the person wearing it. As a result, the price for porcelain veneers will greatly vary case by case, making formulating a general estimate very difficult. Many different factors contribute to the cost of your treatment, including the following:
Number of porcelain veneers you're getting.
Location in your mouth.
Brands of veneers your dentist has available.
Cost of living in your area.
During a consultation with your dentist, they should be able to give you an accurate estimate for your specific case.
Options for Making Porcelain Veneers Affordable
Unfortunately, dental insurance rarely covers porcelain veneers. After all, they are a cosmetic procedure. However, some dental offices work with trusted third-party financing companies that can give you a reasonable rate for monthly payments, even at no interest for those who qualify. That way, you can get the smile you've always wanted without breaking the bank.
In the end, the best way to know how much porcelain veneers will cost for you is to have a consultation with your dentist. They and their team of dental experts can help you navigate through the entire process more smoothly and help you rebuild your confidence. So what are you waiting for? Contact your dentist and get started today. Your future self will thank you!
About the Author
Dr. Glen Goldstein has been helping patients in the Randolph area achieve their smile goals since 1989. In his continuing education training, he has focused on cosmetic dentistry, oral surgery, dental implants, TMJ, and other complex dental specialties. At Randolph Dental Care, he and his staff recommend using CareCredit, CitiHealth, and Lending Club to make treatment affordable within any budget. To make an appointment with him, call (862) 305-0986 or click here.
Comments Off

on Understanding How Much Porcelain Veneers Cost in Randolph
No Comments
No comments yet.
RSS feed for comments on this post.
Sorry, the comment form is closed at this time.