May 17, 2019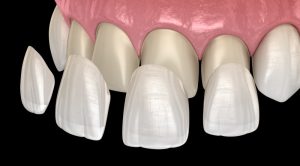 It's an unfortunate fact that over time, teeth are more prone to becoming chipped, cracked, or otherwise damaged. For many people, this can lead to feeling self-conscious about smiling, which in turn can affect your ability to give a good first impression during a big date or an important interview. Luckily, there are many ways for cosmetic dentistry to improve a tooth's appearance, and one option is porcelain veneers in Randolph, New Jersey. Here are 5 ways this treatment can benefit you and your pearly-whites.
1. They Can Correct a Variety of Damages
A porcelain veneer is a thin, custom-made shell attached to the front of the tooth. In addition to hiding stains, they can also cover chips and other signs of damage. They can even make slight corrections to tooth alignment. They're often used when multiple aesthetic changes are required.
2. They Create a Natural Look
When your veneers are being made, the color, shape, and overall appearance of the rest of your teeth are taken into account. The end result is a more natural appearance; casual observers will not be able to tell that dental work has been performed.
3. The Procedure Can Be Done Quickly
Typically, the process can be completed with two trips to the dentist. The first visit will be spent preparing the teeth for veneer placement and taking impressions of your teeth. Temporary veneers are often used afterwards; the permanent versions will be ready to be placed at the second appointment.
4. They're Stain-Resistant and Durable
Coffee, berries and other foods and drinks are prone to staining your teeth; this is partly because tooth enamel is actually porous. Porcelain veneers, on the other hand, have a sealed surface that prevents stain-causing liquids from seeping in. For that reason, veneers tend to be resistant to discoloration, although it can still occur over time.
When well-cared for, veneers be quite durable, lasting anywhere from 10 to 30 years. Thankfully, this is actually quite easy to do thanks to the qualities that make them stain-resistant. In general, you'll only need to provide your veneers with the same care that you provide the rest of your teeth – namely, brushing twice a day, flossing once a day, and keeping your biannual trips to the dentist.
5. They Can Increase Confidence and Wellbeing
Being less willing to smile can affect how you're perceived socially, and subsequent changes in how others treat you can damage your self-esteem and self-image. Veneers can help your confidence and make it easier to show your teeth, helping you to be more outgoing.
Don't forget that cost can be a factor in getting veneers. Each patient has different needs, so the overall price will differ. Speak with your dentist to get an estimate and consider different financing options. Of course, you'll also want to research other forms of cosmetic dentistry before deciding veneers are right for you; do what's best for your smile!
About the Author
Dr. Glen Goldstein has training in advanced general and cosmetic dentistry and is one of the few dental practitioners in the area able to evaluate, diagnose and treat chewing problems. At his practice, Randolph Dental Care, he offers porcelain veneers as well as other forms of cosmetic dentistry such as bonding and teeth whitening. To schedule an appointment, visit his website or call (973) 895-7995.
Comments Off

on 5 Benefits of Porcelain Veneers in Randolph, New Jersey
No Comments
No comments yet.
RSS feed for comments on this post.
Sorry, the comment form is closed at this time.