February 10, 2019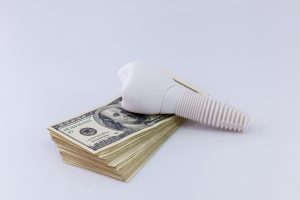 It is no secret dental implants cost more than traditional treatments, like dentures, but they are worth every extra penny. They have the potential to last for several decades, which makes them more cost-effective long-term. It is natural to be a bit concerned about how much you will pay, but you have nothing to fear. There are several ways to keep your new smile affordable without having to compromise the quality of the materials used.

How Much Do Dental Implants Cost?
There is no set price tag for dental implants because the amount you pay is based on your individual treatment plan. There are several factors that influence the cost, such as:
Consultation
You need a consultation to ensure you are a candidate for dental implants. Besides the dentist's fees, you will also need to pay for digital x-rays and a CT scan. On average, you can expect to pay $25 to $200 per image.
Additional Procedures
It is common to need additional procedures before placing your implant posts, like bone grafting, a sinus lift, or tooth extraction. Depending on the type of treatment needed, it can increase the cost by $250 to $3,000.
Implant Placement
The first stage of completing your smile involves surgically placing implant posts into your jawbone. This requires an oral surgery, so you will need to pay for the sedation or anesthesia. You will also need to cover the cost of each post, which ranges from $1,000 to $3,000.
Abutment and Restorations
The most expensive aspect of your treatment involves the restorations. You need abutments attached to each post before your restoration is placed. On average, they cost about $500 per fixture. The type of restoration you need also influences the cost. A single implant crown is usually about $3,000. If you are replacing several teeth or an entire arch, the price will increase.
How Can I Pay for Dental Implants?
To lower the cost of the treatment, you may be tempted to go with your cheapest option; however, this can harm the long-term success of your new smile. The dentist performing the procedure may not have a lot of experience or they may use low-quality materials. Instead, it is better to focus on qualifications and experience to ensure your new smile is in good hands.
Often, your dental insurance will cover a portion of the treatment until you reach your annual limit, but you will need to review your individual policy. You can use CareCredit to pay for any out-of-pocket expense to keep your new smile affordable.
Invest in Your Smile Today!
You can invest in your quality of life with dental implants. Take the time to choose the right dentist to make the best choice for your smile.
About Dr. Glen Goldstein
Dr. Glen Goldstein is a reputable dentist for general and cosmetic dentistry in Randolph, but he also offers areas of specialty as well, like dental implants. If you are ready to replace your missing teeth, he can help. Contact our office today to schedule your consultation.
Comments Off

on How Much Do Dental Implants Cost?
No Comments
No comments yet.
RSS feed for comments on this post.
Sorry, the comment form is closed at this time.