October 9, 2018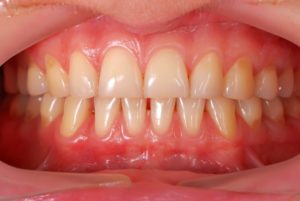 Dental implants are minimally invasive when it comes to oral surgery, but there are some requirements that need to be met before they can be placed. For example, there needs to be sufficient bone volume so the implants can heal, but the surrounding gum tissue must also be in healthy condition. If a person has gum disease, it can easily jeopardize their ability to receive implants, according to an implant dentist in Randolph.
To learn more about the process of receiving dental implants and how periodontal disease plays a role, keep reading!
Can You Receive Dental Implants If You Have Periodontal Disease?
Those who currently have untreated periodontal (gum) disease will not be eligible for implants. This includes diseases like periodontitis, which is a breakdown of the connective tissues that hold teeth in the jaw. The reason dentists cannot place implants in this case is because it dramatically affects the gum's ability to heal. It can also dramatically increase the risk of an implant failure, which is essentially the body rejecting the implant after initially placed.
Are There Other Conditions That Can Deem You Ineligible?
While gum disease is one of the largest factors influencing a person's ability to receive implants, you should also not have any tooth decay.. Decay implies that bacterial growth is present, which can easily affect surrounding teeth and transfer bacteria to the gums and lead to an infection.
Additionally, there are numerous other conditions that can negatively influence your chances of receiving dental implants. For example, untreated diabetes can increase the risk of failure, as well as other conditions that influence the body's ability to heal. Other conditions include:
Blood clotting disorders
Certain bone diseases
Immune system deficiencies
Severe systemic illnesses
Drug abuse
In many cases, a dentist will not consider someone for dental implants if they smoke or use tobacco. Smokers have more difficulty healing after implants and face an increased risk of them loosening after placement. The sooner you discontinue all tobacco use, the more likely you may be considered for treatment. Quitting tobacco will greatly increase your chances of successful healing, both in the short- and long-term.
What If You Previously Had Gum Disease?
While moderate to severe levels of gum disease can hinder your ability to receive implants, it is possible to receive implants if you've fully recovered from a previous gum condition. First, the dentist will need to confirm that your oral hygiene is in order before any treatment is provided. Long-term plaque control is key to success after implants are placed.
Can Periodontal Therapy Help?
Periodontal therapy can help improve your eligibility for dental implants, but you'll need to be willing to have regular follow-up appointments. These treatments may include scaling, root planing, antibacterial intervention and other proven techniques to rejuvenate damaged gum tissue. After these treatments are complete, then you can be reconsidered for implants.
Need to determine your eligibility for dental implants in Randolph? Schedule an appointment today!
About the Author
Dr. Glen Goldstein earned his DMD degree from the University of Medicine and Dentistry of New Jersey. Since then, he's continued his education on a wide variety of subjects, including dental implants and oral surgery. To learn more about his practice, you can contact him through his website.
Comments Off

on Implant Dentist in Randolph Discusses Periodontal Disease
No Comments
No comments yet.
RSS feed for comments on this post.
Sorry, the comment form is closed at this time.