September 13, 2018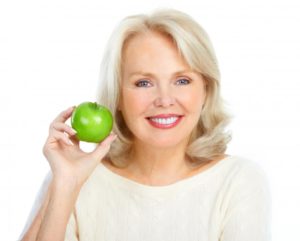 To eat the foods you love, speak with clarity and smile with pride requires that you have a fully functional set of teeth. Thus, the time that you've spent without yours has made life difficult. One way to restore them is with traditional dentures, but they still leave much to be desired when it comes to stability and the ability to restore all the normal functions of your natural teeth. As you read on, your dentist explains how to shore up your dentures with All-on-4 dental implants in Randolph.
What is a Dental Implant?
When you're missing teeth, the main problem is that the roots have dissolved. Thus, the best way to restore your teeth is to replace what's been lost, which is what a dental implant does. It's a surgically inserted titanium post that is affixed to the underlying jawbone. Over time, the post fuses with your existing bone to form a sturdy foundation to support a restoration.
All-on-4 – A Different Type of Implant
For patients missing an entire arch of teeth, replacing each tooth with an implant isn't necessary. Instead, your dentist will use the All-on-4 method to strategically place four dental implants per arch. One of the keys to this procedure's effectiveness is that the implants are placed at specific angles in the denser parts of the jawbone to allow greater stability and support of implant-supported dentures.
Why the All-on-4 Method is Better
The All-on-4 procedure is superior to traditional dentures for a few reasons:
Stability – By attaching to dental implants, your dentures have better support, which means you won't have to worry about them shifting while you talk or eat.
Appearance – The secure fit of your implant-retained dentures also translates into a more realistic-looking smile. This is because it more closely mimics the natural set-up of your teeth.
A Natural Feel – Another problem with traditional dentures is that they partially cover the palate, which makes it harder to taste the foods you eat. Because implant-retained dentures don't rely on any suction to keep them in place, none of your palate will be covered because it's not needed.
Jawbone Support – While dentures provide some jawbone support, it isn't much. With your All-on-4 implant-supported dentures, though, you'll be able to prevent bone loss because of the implants sending the message to your underlying structure to continue producing new bone cells.
Living without your teeth doesn't have to remain your reality. With dental implants in Randolph, you'll soon be on your way to completely restoring your digits and way of life. To learn more about the process, reach out to your dentist to schedule a consultation.
About the Author
For nearly 30 years, Dr. Glen Goldstein has been serving the Randolph area. Still, the University of Medicine and Dentistry of New Jersey graduate has remained committed to providing his patients with the best care, which is why he's taken advanced courses in implantology, oral surgery and several other areas. Additionally, Dr. Goldstein is a Diplomate and Fellow of the International Congress of Oral Implantology. He restores patients' smiles with All-on-4 dental implants at Randolph Dental Care, and he can be reached for more information through his website.
Comments Off

on What are the Benefits of All-on-4 Dental Implants in Randolph?
No Comments
No comments yet.
RSS feed for comments on this post.
Sorry, the comment form is closed at this time.