January 2, 2018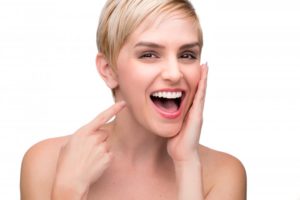 The simplest things in life provide the greatest joys: the moment your child first walks, the last-minute winning home run or a heaping mouthful of your favorite dessert. When you think of these moments, there's one constant that appears in each – the smile. It has been the witness to every exuberant moment of your life. And you two have a lot of history together, sometimes separated by circumstances, but always finding a way back to each other. Thus, you owe it to your smile to give back to it a portion of the joy that it's given you by perfecting it, which is why you should consider getting porcelain veneers from your local cosmetic dentist in Randolph.
What are Porcelain Veneers?
Veneers are thin strips of porcelain that your dentist adheres to your teeth to mask such imperfections as gapped, misaligned, crooked or stained teeth. The process usually takes two office visits and begins with an initial appointment to have an impression made so that your permanent veneers can be custom crafted. While you're there, your local professional will also remove a small amount of enamel and adhere a temporary set of veneers.
At the next visit, your brand-new porcelain veneers will be placed, and you'll be ready to smile like you never have before.
Why You Should Choose Porcelain Veneers
There are several benefits of getting porcelain veneers that will enhance your quality of life, including:
Greater Confidence – You can't put a price tag on feeling better about yourself. The euphoria and power that you experience from having a smile that you can be proud of is beyond words.
Successful Interactions – One-third of Americans say that the first thing they notice when they meet a person is their teeth. And 24% say that it's the facial aspect they remember the most after a first encounter.
Function – Not only will your new porcelain veneers of Randolph reinvigorate your self-esteem, they also offer functional benefits. For example, if your currently have a gap between you front teeth, this cosmetic procedure will mask it, allowing you to pronounce your words better.
You can reap all of these benefits and many more by contacting your dentist for an initial consultation to start down the road to perfection. And when you get your new veneers, you will have finally honored the smile that has served as your window to happiness for so many years.
About the Author
Dr. Glen Goldstein received his undergraduate degree from Rutgers University and then earned his Doctor of Dental Medicine degree from the University of Medicine and Dentistry of New Jersey. With an emphasis on cosmetic dentistry and several other modalities, Dr. Goldstein stays abreast of the latest advances in oral care through continued education. A member of the American Dental Association, Dr. Goldstein practices at Randolph Dental Care and can be reached for more information through his website.
Comments Off

on The Perfect Smile Delivered by Your Cosmetic Dentist in Randolph
No Comments
No comments yet.
RSS feed for comments on this post.
Sorry, the comment form is closed at this time.