November 19, 2017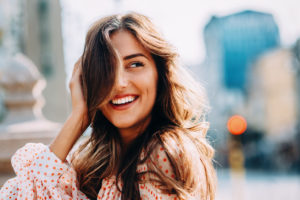 When faced with dental trauma, you don't want to have to wait to have your smile repaired. One of the best ways to fix a damaged tooth is with dental crowns, but the process can be inconvenient and drawn out.
If you need a swift way to fix your dental damage, your dentist can provide you the convenience of same-day dental crowns in Randolph.
Dental Crowns Are a Great Way to Fix Smiles!
There are a few times that a tooth's functionality may need to be restored and you need a great dental restoration to do it. In these cases, your dentist will most likely recommend getting a dental crown:
Large amounts of tooth decay that cannot be repaired with a dental filling.
Teeth that have become extremely damaged by wear and tear or trauma.
A tooth that needs to be replaced with a dental implant.
Teeth that need to be supported with dental bridges.
A tooth that's misshapen or discolored.
Choose a Dental Practice That Has Advanced CEREC Technology!
As mentioned above, there are a few different reasons why you may need a dental crown—especially if you happen to have a dental emergency that needs immediate repair. Before you know it, you'll have a repaired, functional tooth! Here's how advanced dental technology like CEREC can benefit you.
The technology is equipped with a special intraoral camera that can view all angles of your mouth.
The dental images can then be transferred from the camera to your very own personalized dental file for reference.
The milling unit will turn a block porcelain that will be crafted into your custom dental crown.
Since this is all created during your dental appointment, you'll leave the office with your permanent crown in place.
Your Same Day CEREC Crowns Can Last Years!
With all the ways dental crowns can help you repair your smile, of course, you'll want your dental crowns to last as long as possible. Believe it or not, they can last up to 30 years! The best way to care for your crown is by maintaining for your teeth at home and visiting your dentist for professional care. Here are some helpful tips for excellent hygiene:
Brush your teeth twice a day.
Floss every day.
Stay aware of what you are eating.
Avoid hard, crunchy foods.
When you need a tooth to be repaired, you need it to happen as soon as possible. Avoid all the hassle of traditional dental crowns by visiting a dental practice that offers advanced CEREC technology.
---
About Our Office
Here at Randolph Dental Care, your dentist, Dr. Glen Goldstein, values each of his patient's time and respects their busy schedule. Our office works together so that everyone feels comfortable and calm, trusting that their dentist will repair smiles in the fastest, most convenient way possible. Feel free to ask our office about same day dentistry in Randolph today!
Comments Off

on Same Day Crowns in Randolph Are Very Successful, Too!
No Comments
No comments yet.
RSS feed for comments on this post.
Sorry, the comment form is closed at this time.