October 30, 2017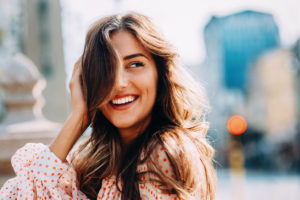 With the holidays approaching, it's more important than ever to have an effective, advanced, swift dental team backing you just in case an emergency happens. You're more likely to injure a tooth when crunching down on holiday snacks like caramelized nuts or hard candy canes. If a dental emergency occurs, your dental team should have the appropriate technology you need to improve your dental issue the very same day, like advanced CEREC technology. This way, you can get same day crowns in Randolph.
When You Might Need a Dental Crown
As mentioned above, there are a few minor reasons why you might need a same day dental crown, including these reasons:
If you've replaced a missing tooth with a dental implant.
If you need to support a dental bridge placement.
If you have tooth decay that's too large for a traditional filling.
If you have cracked, broken or severely worn-down teeth.
If you have misshapen or discolored teeth.
Using Same Day Dentistry in Randolph
Getting traditional dental crowns can be time-consuming and even worse—messy! The process usually includes a full exam, inconvenient impressions, and a number of appointments to actually receive your permanent crown.
Instead, with the modern advancements dentistry has made today, we can provide you a solution all within the same day. That's why we offer dental crowns that can be created and placed all during one appointment.
Your Practice Should Value Comfort & Convenience
You might be wondering how your dentist can measure for, create, and place dental restorations all in one visit. It's easy with the advanced 3D imagery that comes along with its own milling machine to actually create personalized crowns.
Secondly, CEREC crowns are usually more comfortable than traditional crowns. Again, this goes back to the dentist having complete control over your restoration. Crowns created on the same premise have the ability to be adjusted to fit you perfectly if need be.
More Advantages of Same Day Dental Crowns
In addition to comfort and convenience, CEREC crowns offer these other benefits over traditional crowns including:
Since there isn't any metal, they're much more compatible with your body.
The look and function of the crown is very similar to your natural teeth.
They're made from materials that are just as strong and durable as regular crowns.
Your dentist has complete control of the shape, fit and color of the crown.
If you have a weak tooth in your smile or experience a dental emergency that requires tooth restoration, feel free to contact an office with advanced CEREC technology.
---
About Our Office
Here at Randolph Dental Care, we get the most out of our advanced technology. We use out CEREC 3D machine to create crowns, veneers, inlays, and onlays to help with just about any dental issue you may face. If you want quick, effective dental work, feel free to call our office.
Comments Off

on You Can Benefit from Same Day Dental Crowns in Randolph
No Comments
No comments yet.
RSS feed for comments on this post.
Sorry, the comment form is closed at this time.