February 1, 2017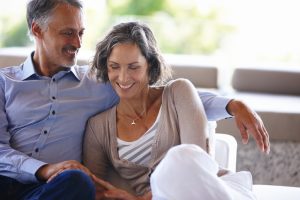 Face it: you hate your missing teeth. It seems odd to hate something that isn't there, but that's how you feel nonetheless. It's always the first thing you think about whenever you start speaking to someone, and you never show your teeth in pictures anymore. It's time for a change; it's time to replace your missing teeth. You keep reading about how dental implants in Randolph are one of the best ways to do this, but why? What makes them better than other methods, such as a bridge? Today, Dr. Glen Goldstein is going to discuss the multitude of benefits you get from replacing your teeth with dental implants.
1. Natural Appearance
For most people, a missing tooth is mostly an aesthetic problem, and it makes them constantly feel self-conscious. Dental implants provide the most natural-looking solution available today, and only you will know that it's not a real tooth. Dental implants use all-ceramic crowns which are able to perfectly replicate a tooth's shape, size, and color. They even reflect light just like enamel, meaning your implant will blend in seamlessly with the rest of your smile.
2. More Security
Of course, you never want to worry about your new tooth falling out. That is almost a laughable notion when it comes to dental implants. They are held in place using a titanium post that is surgically implanted into your jaw. This post will firmly bond with the surrounding bone, giving you a hold very similar to a natural tooth. It stays in place like your other teeth because it is held in just the same way, meaning you will always be able to rely on it.
3. Improved Oral Health
A missing tooth can lead to many problems for your mouth. Your remaining teeth can drift into the open space, causing them to become crooked and affect how your jaw fits together. Plus, the bone and gums around a missing tooth naturally start to atrophy because the body cuts off blood flow to the area, and this increases the risk of your other teeth falling out. Dental implants prevent all of these issues. They not only fill the gap in your smile, but also help reestablish a nourishing blood flow that will keep your mouth healthy for years to come.
4. Your Other Teeth Are Left Alone
Another common way to restore a missing tooth is with a dental bridge. One of the main drawbacks of this approach is that the teeth surrounding the gap have to be modified to fit a set of crowns that will support the bridge. With dental implants, this step is unnecessary, meaning we can restore your smile while preserving your remaining teeth.
5. Longevity
Dental implants only require regular brushing and flossing to last for decades. You basically take care of them just like your natural teeth. With proper daily care, they can easily last a lifetime.
Want To Know More?
As you can see, these benefits make it easy to figure out why more dentists and patients are choosing dental implants than ever before. They look great, restore your smile, and last for a very long time, which is everything you could possibly want. They really are the most comprehensive solution available today.
If you'd like to know more about dental implants or want to start getting them, simply call your implant dentist in Randolph today.
Comments Off

on 5 Benefits of Getting Dental Implants in Randolph
No Comments
No comments yet.
RSS feed for comments on this post.
Sorry, the comment form is closed at this time.